North Carolina is certainly not short on young talent.  Here are some of the standouts from the Cox Mill Charger Shootout last month.
Alyssa Hankerson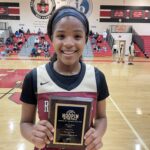 Alyssa Hankerson 5'5" | SG Charlotte Country Day | 2025 NC | Charlotte Country Day | 2025
The Hankerson sisters have returned to Charlotte, and we are certainly happy about that.  She made sure her opponents knew she could shoot from deep.  She was quick handling the ball finding her open teammates, and she was constantly moving without the ball to shift the defense.  As a defender, she was quick laterally staying in front
Jamyrah Cherry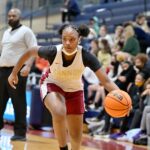 Jamyrah Cherry 5'10" | SF Cannon | 2025 NC | Cannon | 2025
Cherry re-classed this year, and this means we get to see her even more in North Carolina.  She has certainly gotten stronger when battling opponents inside the paint, and she is looked for as a ball handler even when pushing the ball up the court.  She is a strong defender even going against some of the best players in the area using her length and speed to prevent her opponents from getting to the basket.
Addison Sirianni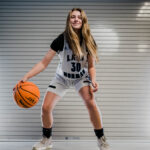 Addison Sirianni 5'7" | CG Lake Norman | 2025 State NC | Lake Norman | 2025
Sirianni (featured photo) showed off her speed getting to the hoop in transition ready for the pass and to score.  She is typically tasked with guarding the opposing best player, and her steals and aggressiveness against ball handlers is exactly why.  Opponents can't lose her on the court as she is sure to shoot the ball well from behind the arc.
Alexis Shehan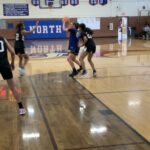 Alexis Shehan 5'9" | SF Lake Norman | 2025 NC | Lake Norman | 2025
Shehan showed off her stroke from behind the arc on multiple occasions expanding the offensive side of the ball.  She had a nice midrange jumper, too, scoring from all areas of the court.  She used her length on defense to deflect some passes and grab the steal.  She was aggressive grabbing rebounds and using these offensive boards to score some points.  She does well sliding to the block just in time to get a pass and score.
Kelsey Rhyne | Lake Norman | 2026
Rhyne found herself battling for her points by the basket.  She didn't need to be next to the hoop to score, though, as she made sure to show off her shot from deep.  She's definitely someone already playing at a high school level knowing where to move on offensive plays and how to anticipate passes on defense.