The Hop Step Sporting Event Nationals took place in Benton, AR and featured some really good competition and individual play. There were some new faces that caught my attention at this event. Let's look at the players who stood out and played consistent basketball throughout the weekend.
Jakyra Jackson | Combo Guard | The Baller Family/Central High School (Helena-West Helena) | 2025
Jakyra had the most consistent play of everyone I saw over the course of the weekend. She's a dynamic point guard with a good skill set that can play multiple positions. Add in her athletic ability and you have yourself a player. Her individual play consisted of scoring off the bounce, getting out in transition, making plays for others, and playing solid defense led her team to the championship.
Dessie McCarty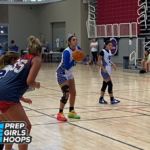 Dessie McCarty 6'2" | C Mt. Vernon | 2024 State AR | Post | AR Elite/Mt. Vernon-Enola High School | 2024
When you have the number 1 ranking for your class you automatically have a target on your back. The 6'1 post player still managed to show off her ability to play inside and out. She rebounded on the defensive end and could zip the outlet pass to a teammate or handle it herself and make plays in transition. She showed good footwork on finishes, made some good passes, knocked down some mid-range pull-up jumpers in transition and anticipated well on defense.
Kate X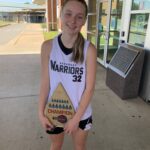 Kate X 5'8" | SF Perryville | 2025 AR | Wing | AR Warriors/Perryville High School | 2025
I've gotten the opportunity to see Kate play several times and she never disappoints. I know exactly what to expect and she goes out there and performs. She's an athletic wing player that really excels in the open court. She can finish in a variety of ways around the rim with good footwork, she rebounds on both ends, and gives good effort on defense.
Aubrey Evans Aubrey Evans 5'11" | PF Bigelow | 2023 State AR | Post | Swaggin Dragons/Bigelow High School | 2023
Aubrey really showed off her athletic ability over the weekend. When you combine her athletic ability with her size and length you will have problems tryin to score. She was up top of the team's zone defense and she just caused problems for the other team. She was quick enough to stay with the guards and long enough to get deflections and cause bad passes. This allowed her to get out in transition for easy buckets. In the half-court, she also loves to attack off the catch in a straight line drive to the basket.
Madyson McKinzie | Post | South AR Lady Hoopsters/Dumas High School | 2023
Madyson is a player that has a nice skill set and a lot of potential. Her size and length gives her the ability to be a really good defender. She's athletic enough to defend any position on the floor. She runs the floor well, rebounds on both ends, has a soft touch, and loves a challenge. Madyson will not back down from anyone. If she continues to add to her skill set she can have a really good senior year and do big things for her high school team.