LBI Summer Showcase with lots of talented athletes competing against one another.  Take a look at these 2023 and 2024 forwards who were having standout performances.
Miya Giles-Jones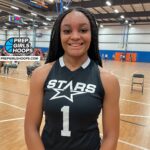 Miya Giles-Jones 6'1" | SF Terry Sanford | 2023 State NC | Fayetteville Stars 17U | 2023
Giles-Jones continues to show her athleticism and certainly shows why she can take her talents to the next level.  She was knocking down shots from deep, and she was powering through the middle of the paint to score some points.  Her opponents struggled with defending her as she can score from anywhere.  She handled the ball well facilitating plays on the offensive side of the ball.
Cheyla Scott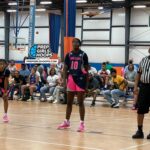 Cheyla Scott 6'0" | PF Butler | 2023 NC | Team Curry 17U | 2023
Scott runs the floor really well being available in transition to score some points by the basket.  She moves well with the ball creating space to score her points, and she certainly knows how to battle through contact.  Her length was crucial on defense being able to block shots.
Zaire Jones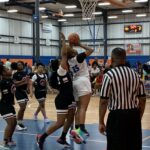 Zaire Jones 5'10" | PF Oak Grove | 2023 NC | FBC Carolina Elite Rise Drew | 2023
Jones runs the floor well making herself available in transition.  She was persistent grabbing rebounds, and she used her strength to score her points by the basket.  She did a nice job sealing off opponents without the ball waiting for an entry pass, and she can certainly put the moves on her opponents when she gets the ball to put the ball through the hoop.
Jerin Truesdale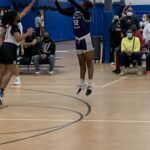 Jerin Truesdale 5'9" | SF Myers Park | 2024 State NC | Team United 2023 Tate | 2024
Truesdale was doing it all for her team playing aggressively going after loose balls and rebounds.  She crashes the boards coming out of nowhere to grab rebounds taking advantage of her opponent's inability to box her out.  She can handle the ball well with speed even making a nice pass threading the needle on a fast break.  She keeps her eyes on the basket finding various ways to score.
Kyleigh Goode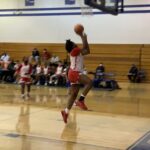 Kyleigh Goode 6'0" | PF Seventy First | 2024 State NC | Carolina Flames 17U Nike Moses | 2024
Goode (featured photo) showed off her post moves even against a taller opponent.  She used her strength on the paint to have her way and show her ability to score.  Her persistence around the rim was rewarded with rebounds, and she did well seeing the court finding her open teammates.