LBI Summer Showcase hosted some great athletes in the state going up against each other.  These 2023 guards showed that they can do it all for their teams.
Anaya Harris Anaya Harris 5'8" | PG North Raleigh Christian Academy | 2023 NC | Carolina Flames 17U Nike Moses
Harris' defense was crucial at the end of a close game grabbing steals to take the other direction for some points to pull away. Her stroke was nice from deep on multiple occasions showing off her ability to score anywhere.  She did a great job facilitating plays making sure they developed the way they were supposed to.
Kylie Chavis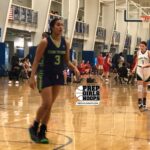 Kylie Chavis 5'9" | CG Purnell Swett | 2023 State NC | Carolina Flames 17U Nike Moses
Chavis (featured photo) was quick to jump into passing lanes on defense and immediately push it up the court whether she took it all the way to the hoop herself or found an open teammate cutting to the basket.  She exploded to the basket making a nice move to get open and lay it in.  She hit a clutch three pointer at the end of a close game to pull away with the lead.
Anastasia Sinclair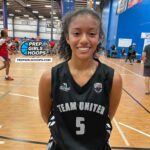 Anastasia Sinclair 5'7" | CG South Mecklenburg | 2023 State NC | Team United 2023 Calhoun
Sinclair is always moving on the court.  She puts up a shot, and she is following it even though she doesn't necessarily need to with the way she can put the ball through the hoop.  When she doesn't have the ball, she is making cuts to get open.  She moves into the lane looking for a rebound.  She knows how to thread the needle with her passes finding her teammates cutting to the hoop.
Amaya Glenn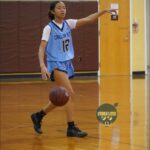 Amaya Glenn 5'5" | PG HPCA | 2023 NC | FBC Carolina Elite Rise Drew
Glenn was driving hard to the basket with a nice finish at the rim.  She found her way to the hoop creating space for herself easily.  She wasn't shy when it came to diving on the floor for loose balls, and she can pick the pocket of her opponents easily.
Abria Copeland | Team United 2023 Tate
Copeland had a great spin move in the paint to get some points.  She didn't shy away from contact battling through it to score for her team.  She runs the floor well releasing on fast breaks to be ready for a pass and put it through the hoop.