Prep Girls Hoops was on the move all last week during the NCAA Live Period. We were able to take in a day of action at the LBI Summer Showcase in Concord, NC. Let's take a look at some of the 2025 Hoop State members that stood out today while we were in attendance.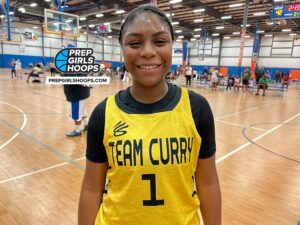 Brooklyn Saunders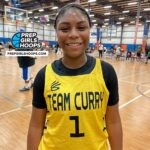 Brooklyn Saunders 5'5" | PG Butler | 2025 NC – Butler HS (Matthews) – Team Curry 15U GUAA 
Brooklyn is a great floor general from the backcourt. Saunders is a pass first point guard with good court vision. She was really able to attack the gaps and get the ball into the paint today. Brookyln really looked to use the old school bounce pass on several occasions today. Saunders averaged 15.5 ppg, 5.7 rebounds, 4.3 steals and 3.7 assists this past season at Butler HS.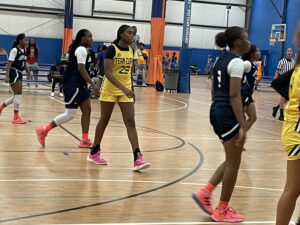 Trista Charles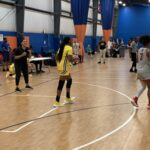 Trista Charles 5'11" | CG Oak Grove | 2025 State NC – Oak Grove HS (Winston-Salem) – Team Curry 15U GUAA 
Charles is a left-handed wing player who really likes to set-up shop at times out in the corners. Trista can knockdown the 3-ball along with some short mid-range jumpers. Charles was active in the passing lanes and picked up some deflections today for her efforts.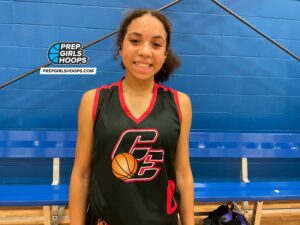 Emilee Lippard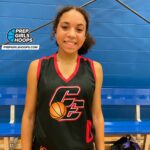 Emilee Lippard 5'6" | CG North Iredell | 2025 NC – North Iredell HS – Carolina Express Red 15U 
Lippard is a tough kid who ran around today knocking down shots. Emilee is a combo guard with a fierce mindset on the hardwood. She always ready to receive the ball in the pocket to shoot it. Lippard played with a competitive edge at times.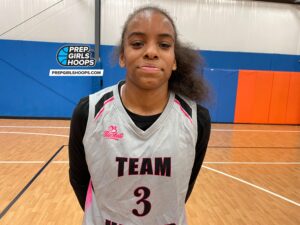 Khloe Thompson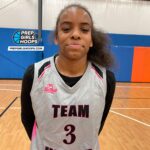 Khloe Thompson 5'6" | CG Cannon | 2025 NC – Cannon – Team United Thompson 
Thompson was able at times today to hit the 3-ball, hit the mid-range jumper and score at the basket. Khloe showed no hesitation at all all when it came to diving on the floor. She was able to collect some 50/50 balls along the way. She shows to be a good floor leader and feel for the game.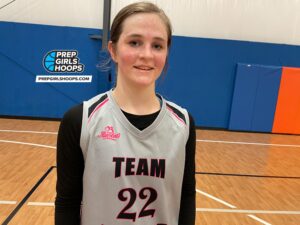 Emily King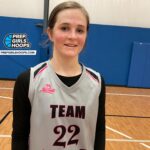 Emily King 5'8" | SG Metrolina Christian | 2025 NC – Metrolina Christian – Team United Thompson 
King informed Prep Girls Hoops she was headed to Metrolina Christian for this coming season. Emily is a shooting guard who has the ability to knockdown shots from the perimeter. She was able to connect on a handful here today. Emily averaged 11.2 ppg last season at Carmel Christian.
Justice Zimmerman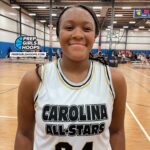 Justice Zimmerman 5'10" | SF NC GBB | 2025 NC – Durham School of Arts/ NC GBB – Carolina All-Stars 
Zimmerman was able to play inside-out at times today. Justice has a great nose for the ball and does a good job of rebounding it on both ends of the floor. She has a great set of hands and was really able to claim anything thrown into her direction. She will for NC Good Better Best Academy (NC GBB) this coming season where her father James Zimmerman (former Charlotte 49ers player) takes over.