LBI Summer Showcase was the place to be last week watching girls basketball as some of the top athletes in the state were competing.  Check out these 2024/2025 point guards that were performing at a high level these three days.
Ashlee Shaw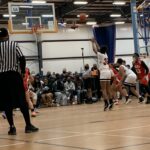 Ashlee Shaw 5'10" | CG West Cabarrus | 2024 NC | Team Curry 16U | 2024
Shaw releases quickly on fast breaks making sure she's ready for the pass to score some points.  She goes up for rebounds, too, grabbing them with her strength.  She did exceptionally well being around the basket in time for a pass or an offensive rebound.  She was making effective cuts to get herself open.
Madison Mims | Carolina Flames 17U Nike Moses | 2024
Mims came in the game with high energy handling the ball, controlling the tempo, and grabbing steals.  She has a high motor pushing the ball up the court, and she is sneaky when it comes to picking the pocket of her opponents.  She does well finding her teammates setting them up for their own points.
Aaliyah Townes | FBC Carolina Elite Rise Eggers | 2024 
Townes (featured photo) was a terror on defense grabbing steals, and she can handle it with speed getting around her opponents to score some points by the basket.  She was able to predict what her opponents would try to do, and her knowledge of this translated well to the offensive side of the ball knowing how to best get around her defenders.
Ramsey Cureton | Warriors Life Elite | 2024
Cureton has some nice height already, and she uses that to jump up and over her opponents when making jump shots.  She can stroke it from deep, too.  Her length was an asset on defense blocking shots and closing out on opponents with ease.
Barri Terry | Team United Thompson | 2025
Terry was a strong presence using her size to her advantage to score some points in the paint.  She was a demon on her team's press staying close to the front of the pack deflecting passes and grabbing steals to put through the hoop easily.
Breonna Roaf Breonna Roaf 5'7" | CG Terry Sanford | 2025 State NC | Fayetteville Stars 17U | 2025
Roaf showed why her quickness is an asset on the defensive side of the ball grabbing steals to push the other direction.  She has a nice finish at the rim.  Even after just one year in high school, she knows how to control the tempo of the game pushing the ball or slowing it down for some set plays when her team needs it.  She even follows shots to grab some rebounds.  She has a nice stroke from behind the arc, too.