The first NCAA Live Period has come to an end. With the traveling and driving and going to other events – these kids were in my lost file. I guess better late than never that's for sure. Plenty of talent coming out of the Hoop State these next coming years. #RecruitTheHoopState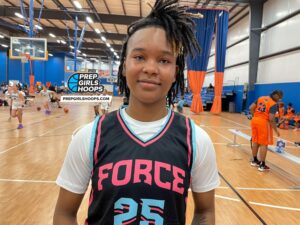 Anaya Hall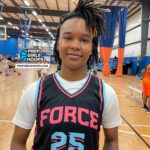 Anaya Hall 5'10" | SF E.E. Smith | 2023 NC – E.E.Smith HS (Fayetteville) – Carolina Force 
Hall started off making 15 of her team's first 16 points in the opener. Anaya was able to finish putbacks on the glass and tip ins today. Anaya protected the cylinder with a handful of block shots. She showed to have a nice short mid-range jumper and soft hands today.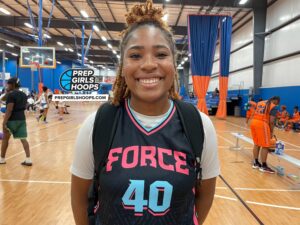 Samara Britt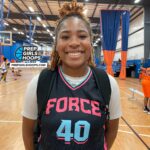 Samara Britt 5'9" | PF Cape Fear | 2023 NC – Cape Fear HS (Fayetteville) – Carolina Force 
Britt does her best work when she is around the paint area. Samara cleaned up on the glass at times and does a good job of keeping the ball up high. Samara averaged 8.4 ppg, 12 rebounds and 3.5 blocks last season for her (17-10) squad. She has good footwork which stems over to the soccer field.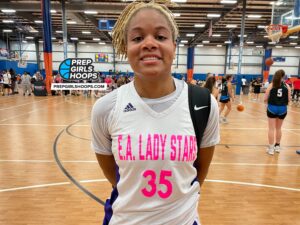 Kairah Dixon Booker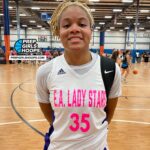 Kairah Dixon Booker 5'10" | SF North Mecklenburg | 2023 NC – North Mecklenburg HS – EA Lady Stars 17U 
Kairah and her teammates ran into a buzzsaw today. Dixon Booker has good skill set and a nice mid-range jumper to go with it. Kairah looked to attack and stalk the baseline at times today. She looks to make plays with the ball in her hands at all times.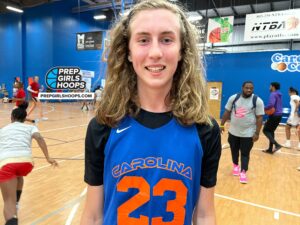 Caroline Thiel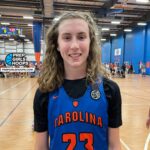 Caroline Thiel 6'0" | SF Rocky Mount | 2023 NC – Rocky Mount HS – Carolina Flames 17U Nike – Moses 
Thiel is still a bit of an unknown in basketball circles. Caroline is also a swimmer when she is not hooping it up for the Blue and Orange of the Flames. Thiel is very athletic and agile on the floor. She moves well around the floor and shows to have a nice turnaround jumper in her arsenal at times. Caroline averaged 19.3 ppg this past season out in the Eastern part of the North Carolina.
Kendall Harris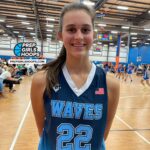 Kendall Harris 6'1" | SF Durham Academy | 2023 NC – Durham Academy – Carolina Waves 
Harris was a pleasant surprise in which I had never seen her play before until today. Kendall has a great skill set from the forward position. She handled the rock, brought the ball up the floor at times, finished with both hands at the rim along with staying active away from the ball. Kendall was able to connect on some perimeter jumpers including some bombs from downtown.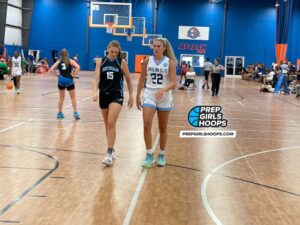 Laney Scoggins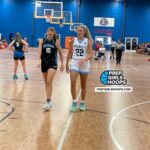 Laney Scoggins 6'0" | SF Hoggard | 2023 State NC – Hoggard HS – FBC Carolina Elite Queens 
Scoggins is playing over at Hoggard HS this season in Wilmington after leaving North Brunswick HS. Laney is headed off to Presbyterian College after high school. Scoggins a left-handed forward has a good feel for the game and moving without the ball. She was able to drop some nice perimeter jumpers when she wasn't showing off her passing skills at times from the high post. Laney has a really good understanding of the game and showed great communication with her teammates on the floor today.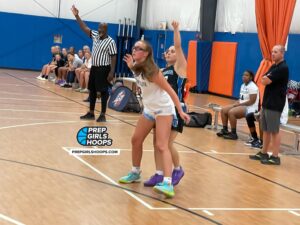 Madison Young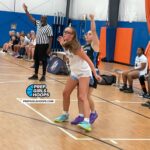 Madison Young 5'10" | CG Northwest Guilford | 2023 State NC – Northwest Guilford HS – FBC Carolina Elite Queens 
Young is headed off to Concord University (WV) (NCAA D2) after high school. Madison was everywhere today to make a hustle play. She grabbed loose balls, 50/50, dove on the floor, took charges and really got after it. Madison brings great energy to the floor at all times.
Miya Giles-Jones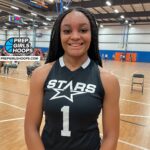 Miya Giles-Jones 6'1" | SF Terry Sanford | 2023 State NC – Terry Sanford HS (Fayetteville) – Fayetteville Stars (pictured on front)
Giles-Jones had the best performance of the day in the games Prep Girls Hoops watched. She dropped a cool 29 points in a victory, and it seemed she didn't work up much of a sweat doing that. Miya has a HIGH-MAJOR motor and great frame already for the next level. She was able to finish in transition at ease when she wasn't knocking down three pointers (made 5 today in victory). Miya crashed the glass – 15 rebounds to my unofficial stats today. She's very athletic and at times exploded to the cup for an easy 2 points.