One of the smaller events of the offseason basketball calendar emanated from Summerville HS as several AAU teams from across the Lowcountry converged on the home of the Green Wave for the Lowcountry Summer Shootout.
The 5A school has significance in the landscape of Palmetto State girls basketball given it is the home of last season's state runners-up in the class. Only between 10-20 teams were part of the weekend tournament that only had to utilize the main court at Summerville HS, but the basketball was no less entertaining despite its small size.
We at Prep Girls Hoops also made the trip out to the Green Wave's home court – our first since this past year's playoffs. Here are a look at rising freshmen and eighth graders who rode a wave of momentum into Saturday's action.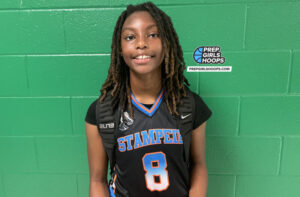 Demi Gray Demi Gray 5'2" | PG Goose Creek | 2026 SC – 2026 – Goose Creek HS – Palmetto Stampede – Two seasons ago, Gray participated on the junior varsity team with the Gators before finding a footing with their varsity squad this past season. As effective as she is with her ball handling, she can be every bit as such as a ball distributor. Gray also can convert on tough shots and is unafraid to draw contact which can put her at the free throw line. She is listed at 5-foot-2 and possesses plenty of upside as a rising freshman. Gray finished with seven points in what was a 30-25 Palmetto Stampede victory over Lowcountry Premier 15U.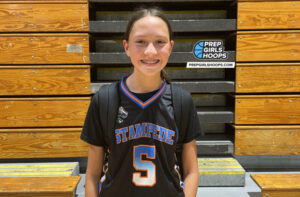 Madison Thomas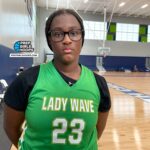 Madison Thomas 5'11" | PF Summerville | 2025 State SC – 2026 – Berkeley HS – Palmetto Stampede – Thomas made important plays all Saturday long for Palmetto Stampede and was seemingly in the midst of everything going on while her team was on the court. Along with her prowess as a scorer, she also proved to be an important piece to the team with what she does as a passer. Thomas also managed to display impressive ball handling skills along with an ability to shoot with effectiveness from long range. The Stags will field a veteran-centric bunch in 2022-23, but the program's future is bright with standouts like Thomas sporting the royal blue and gold Berkeley colors.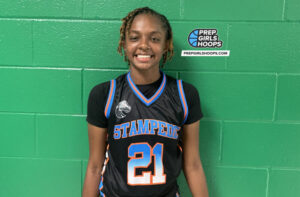 Amani McCray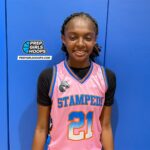 Amani McCray 5'7" | SF Berkeley | 2027 SC – 2027 – Berkeley HS – Palmetto Stampede – One of the backcourt anchors for the 5A Stags, she displayed why she is sure to garner a decent amount of playing time on a veteran-laden Berkeley team this coming season. McCray delivers plenty of hustle and does several of the little things (such as dive for loose balls) that may not show up on a scoresheet. McCray is unafraid of contact that can put her at the free throw line and approaches every game she plays with a fearless attitude. She tallied five points in what was a defensively-minded 30-25 win over Lowcountry Premier 15U.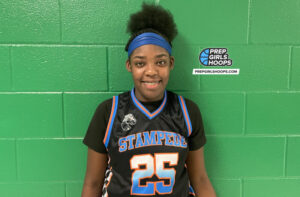 Imani Levey – 2027 – Berkeley HS – Palmetto Stampede – Levey is another up-and-comer on the Stags with plenty of upside – particularly as she will have Peighton Jambor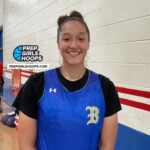 Peighton Jambor 6'2" | PF Berkeley | 2023 State SC to learn from at Berkeley this coming seaosn. She regularly gets herself in the right places at the right times to corral rebounds and will also draw contact which can put her at the free throw line. In addition to what she does near the rim, Levey will also connect on midrange jumpers. Levey also had five points in what was a low-scoring, 30-25 victory for Palmetto Stampede over Lowcountry Premier 15U in one of Saturday's early games.