Prep Girls Hoops Missouri takes a look at the members of Team No. 4 from last weekend's Missouri Basketball Coaches Association Small College Showcase in Columbia.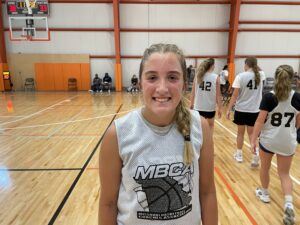 Bailey Fleming Bailey Fleming 5'9" | SG Leeton | 2023 State MO (Leeton): The 5'6 2023 point guard was excellent throughout the day. She worked off the high ball screen very well as she hit a number of long 3-pointers while also being able to hit the rolling post player with a nice pocket pass. She also had good instincts on the defensive end to be in the right position.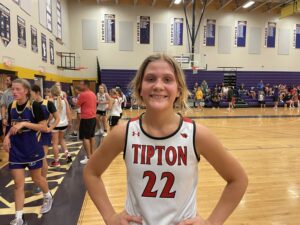 Briar Cox Briar Cox 5'11" | C Tipton | 2023 State MO (Tipton): The 6'0 2023 forward was one of the most impressive frontcourt players at the event. She's very active with her good footwork and ability to score with her variety of moves. She was scoring and rebounding with very good efficiency.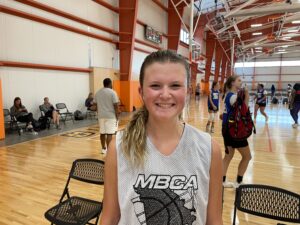 Nyah Strupp Nyah Strupp 5'11" | PF Rock Bridge | 2025 State MO (Rock Bridge): The 5'11" 2025 forward is a solid young player who works hard in the post and who plays well off two feet. She delivered some nice passes and she could step outside and hit the 3-pointer. She can also handle the ball on the perimeter.
Caroline Eastman Caroline Eastman 6'1" | PF Hickman | 2025 State MO (Hickman): A 5'10" 2025 forward who had a solid showing. The young lefty can handle the ball in the open court while being able to shoot the 3-pointer. She also hit the offensive boards from the weak side very well.
Lauren Verslues (Helias): A 5'7 2025 guard who did a nice job scoring on slashing drives through traffic. She had a good shooting touch from the baseline and she can stretch it out to the 3-point line.
Renzlee Davidson (Winfield): A 5'4 2024 point guard who is small, but very quick and pesky on the defensive end. She used her speed to go coast to coast in transition l.