Prep Girls Hoops Missouri takes a look at the members from Team No. 5 from last weekend's Missouri Basketball Coaches Association Small College Showcase, which was held in Columbia.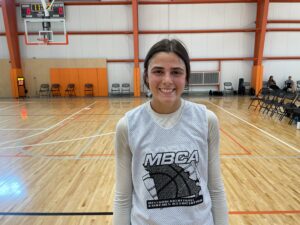 Macie Smith (Fort Osage): The 5'9″ 2023 shooting guard was one of the most impressive players in the showcase. She is a good athlete who was very smooth on the drive as she finished in the lane on a variety of runners and floaters with good body control. She also displayed a nice 3-point stroke whether it was on the catch or off the dribble. She also dropped some nice dimes and had several coast to coast drives for layups in transition.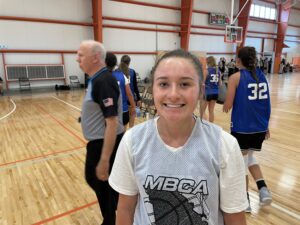 Addy Henke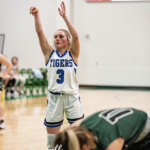 Addy Henke 5'5" | PG Princeton | 2025 State MO (Princeton): A 5'4″ 2025 point guard who is very talented and just as tough. She is very effective as scoring in the paint despite being one of the smallest players on the court. She was very crafty with her footwork and use of ball fakes. She has solid quickness and she has a variety of escape moves to break down defenders to get off her own shots, which included 3-pointers and pull up jumpers.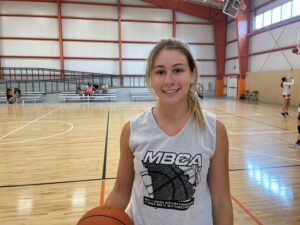 Sarah Grateke (Silex): A 5'11″ 2023 forward who was very mobile around the post area as she was very good at running the court in transition. She made some very solid moves around the basket, including a nice spin move in the lane to free herself up for a layup. She kept the ball up high and did a good job of using the glass to finish.
Brett Cox (Tipton): A 6'0″ 2023 forward who displayed a very effective game in the low post as a scorer and rebounder. She scored on some nice drives along the baseline and she used both hands around the basket very well. She also had a good turn-and-face game where she can make a move off the dribble from the high post.
Brooklyn Bronston-Byrd (Park Hill): A 5'7″ 2025 guard who is a very good rebounder for her size. She did a good job of getting good position and she did very well on the offensive boards. She is also a solid ball handler who can make the 3-pointer.
Aniya Taylor (Normandy): A 5'5″ 2024 point guard who is a good athlete with speed and quickness. She utilized both attributes to be very effective on the defensive end as she applied good on-ball pressure. She was also capable of hitting the open 3-pointer.
Emily Stockcamp (Hallsville): A 5'11″ 2024 forward who used her physical strength to move people around under the basket in a battle for position. I liked that she looked to block out somebody every time the shot went up. The young lefty has a nice shooting touch in the lane.