Saturday afternoon I attended Midwest Hoops Spotlight's famed Academic Elite Showcase. There were over 70+ girls from all over the midwest area in attendance, during this 5-hour event, each girl participated in drills, half-court games, and recruitment seminars, and ended the day with multiple 5v5 games. 
Below are my standouts from the event
'25 Jasmyn Trigueros | 5'6 Guard | West Chicago 
A lengthy playmaking guard that can run an offense with her vision or use her aggression to attack the paint and cause a disruption in the defense. Jasmyn has the skillset and frame to play the 1 or 2 and still be highly effective. Solid on the defense as well, a plug-and-play type of player.
'26 Isabella Keberlein | 5'7 Guard | St Ignatius 
Isabella has the motor and poise to compete with anyone. She's on the taller and longer side for her class and you can clearly see how the age doesn't match the skillset. She has an advanced feeling for the game that allows her to contribute to all aspects. Solid footwork, high IQ, and tons of athleticism and agility. High potential.
'24 Ameli Sanchez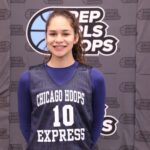 Ameli Sanchez 5'10" | CG Stagg | 2024 State IL | 5'10 Guard | Stagg
Sanchez seems to be a playmaker at heart but can score within any offense and on most defenses. She can shoot the long ball, attack the paint and still have enough of energy to defend at a high level and do the little things that her team needs. Her game has a mix of everything.. so versatile.
'24 Ava Melendez | 5'2 Guard | Portage (Indiana) 
A true point guard. Ava has the handles, tempo change, and vision to fit with all systems and succeed. She has some scrappiness and aggression to her that brings fire to those around her. She knows when to feed and when to eat. On the offensive side, she's crafty and creative. Defensively, she finds where she needs to be to consistently make plays.
'24 Carmen Aguilera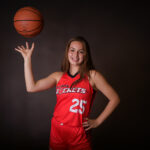 Carmen Aguilera 5'6" | SG Saint Charles East | 2024 IL | 5'6 Guard | St Charles East
Carmen is a big shot taker.. but also a big shot maker. She can put down the long ball, shoot the mid and drive to the rim and get a crafty finish over most players. She has a nonstop motor and can play with and without the ball. She has solid and speed and quickness that causes matchup problems.
'23 Sonya Potthoff | 5'9 Guard | Mahtomedi (Minnesota) 
Confidence alone is the main key to Sonya's extensive skillset. 3-level scorer, a tough on-body defender, and a high motor. She switches from playmaker to scorer within possession and does not lose a drop of her aggression. Potthoff knows how to score the ball and when to just simply set up her teammates. A truly talented kid. High potential!
'23 Margaret Fleming | 5'10 Wing | Downers Grove North
A tough guard for any matchup. The skillset is present and very advanced… however it's the physicality and aggression that she plays with that stands out to me the most. Fleming has a ton of strength and heart.. and she uses it on both sides of the ball. A 3 level scorer, a multi-position defender, and a player who gives everything she has for the entire game. You gotta love it.