The goal for players is simple when it comes to the NCAA Live Periods: be seen by the right people and make the best impression possible when they are courtside. For most players in Minnesota's Class of 2026, the Mill City Invitational may have been their first real exposure to Division 1 college coaches. We've already identified and written about many of the best incoming freshmen – four of the five names here are quite familiar by now – but the coaches may not have seen them live. That changed this week. Here are five 2026 prospects who raised their stock at Mill City.
Audrey Shindelar Audrey Shindelar 5'7" | PG Stewartville | 2026 MN – guard, Southern Minnesota Fury (Stewartville)
It's not easy for players who aren't on top-tier AAU teams to draw much attention when they first appear on the scene. Count Audrey (top photo) among them. The crafty point guard is more than capable of quarterbacking any 2026 team in Minnesota but has chosen to stay close to home for family reasons. When the opportunity arose on Friday, three big-time college coaches ventured to one of the tiny back gyms at Chanhassen to see Audrey for the first time in person. Let's just say they were more than pleased with what they saw from the 5'8 freshmen-to-be. With great court vision, a highly developed set of skills and a wonderful natural feel for the game, that's not surprising. She is impressive, and her status as a D1 recruit just took a major jump forward. Shindelar led all scorers in her division by averaging 17 points per game.
Brooklyn Lewis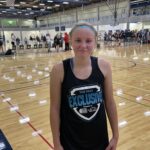 Brooklyn Lewis 5'7" | CG New Ulm | 2026 MN – guard, Minnesota Rise Wright (New Ulm)
Lewis' situation is similar to Shindelar's. The 5'7 point guard is highly skilled with some of the best handles and game management tools we've seen. She's poised on the court, has excellent leadership abilities, and can make the big play when it's needed most. She, too, could run the show for any elite program but plays close to home. In the last game of the night on Thursday, Lewis turned in arguably the best performance we've seen from her over the past two years, hitting the game-tying shot to force overtime and winning it for her team in the second extra period. A coach from one of the most successful D1 programs in the region stayed late to have a look, and everyone involved was happy she did. The next morning several more D1 coaches saw Lewis face the Minnesota Fury's best 2026s and she excelled once again. Brooklyn averaged over 10 points per game in the tournament.
Brylee Miller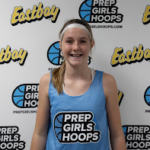 Brylee Miller 5'9" | SG Fairmont | 2026 MN – forward, Minnesota Rise Wright (Fairmont)
Lewis wasn't the only Rise 2026 athlete to make noise in Chanhassen. Highly regarded prospect Tucker Downs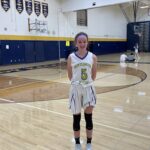 Tucker Downs 5'10" | CG Mankato West | 2026 MN of Mankato West was the subject of much conversation. Her play simply reinforced the status she has already earned as a strong collegiate prospect. For Miller, it was an opportunity to prove that she, too, belongs in that conversation. That's exactly what the uber-athletic 5'9 guard/forward did. She, too, was outstanding in the double OT victory and again on Friday morning. Brylee demonstrated her defensive prowess time and time again and was suitably impressive on the offensive end, as well. Miller averaged 13 points per game over the three days as a result of her size-large motor, excellent mobility, superior vertical abilities and deft touch around the basket. Brylee is just so dynamic in so many ways and now she's in the scholarship-level conversation, as well.
Abbie Pietila Abbie Pietila 5'7" | PG Delano | 2026 MN – guard, Minnesota Fury 2026 Blue (Delano)
The Mill City Invitational is organized and hosted by the Fury, serving as a fine showcase for the program's top prospects. Fury teams get the prime time slots on the main courts and are the principle reason why the college coaches travel across the country to attend. The girls in blue and yellow definitely made it worth their while. Among the 2026s, forwards Vivian Carter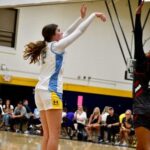 Vivian Carter 6'0" | SF Academy Of Holy Angels | 2026 MN of Holy Angels and Callie Oakland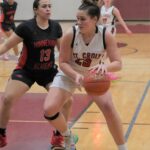 Callie Oakland 5'11" | SF St. Croix Lutheran | 2026 MN of St. Croix Lutheran drew plenty of attention. In the backcourt it was Pietila who had everyone talking. That's not surprising given how well the skilled 5'7 point guard played this week. She was everywhere. On Wednesday Abbie grabbed our attention right away when she hit a dramatic buzzer beater three to give the Fury a 46-45 win over North Tartan Southeast. She ran her team's offense like a pro, distributing the ball, scoring in different ways and doing more than her share on the defensive end of things.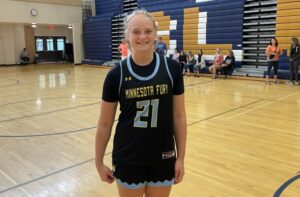 Izzy Guetzlaff – forward, Southern Minnesota Fury 2026 (Red Wing)
While Shindelar, Lewis, Miller and PIetila are more-established prospects in the Class of 2026, there were many incoming freshmen who drew notice for perhaps the first time at Mill City. Count Izzy among them. The 5'10 power forward has improved significantly over the course of the spring and summer season. She has a big frame, plenty of strength and the kind of physical presence that you want from a big, including the willingness and ability to rebound effectively against players of all dimensions. Guetzlaff is quite athletic, very versatile and moves well all over the court. Down low she showed us some nice moves with her back to the basket and finished well while facing the target, too. She also stepped outside to knock down shots from distance. Guetzlaff worked very well with Shindelar as the two of them are the key to the SM Fury offense. Izzy is an intriguing prospect who is officially on the radar now.