Prep Girls Hoops Missouri takes a look at some more good Missouri Class of 2026 forwards from last week's Run 4 the Roses, which was held in Louisville, KY.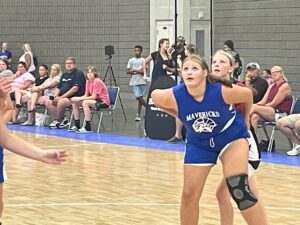 Claire Mueller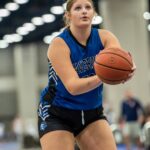 Claire Mueller 6'2" | C Nerinx Hall | 2026 MO (Mavericks Blue 2025): The 6'2″ forward who's headed to Nerinx Hall is a young post player who has a bright future. When she asserts herself to establish her position in the lane, she can move people around like furniture. She catches the ball well in traffic and she high points her rebounds and keeps the ball up to finish off the glass. She gets good position on the defensive end and can be an obstacle to shoot over with her height and wingspan.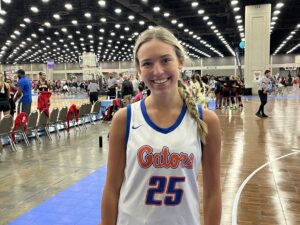 Caroline Schierding (St Louis Gators 2026): A 5'10″ forward who is headed to St. Joseph's Academy, she is a mobile post player with an effective drop step and a nice spin dribble in the lane to get to the basket. She can beat defenders off the dribble from the high post and she will hit the 15 footer. She was also making her free throws.
Dee Dee English (Della Lamb Adidas): An athletic 6'0″ forward who has good mobility and excellent length to impact the game at both ends of the court. She runs the court very easily in transition. She is a good shot blocker who also gets a lot of work done on the offensive boards. This young forward has plenty of potential.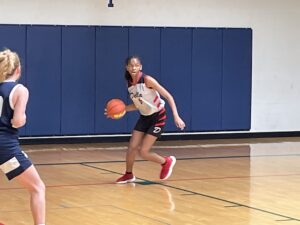 Taylor Osborn (Della Lamb Adidas): A 6'1″ forward who has good athleticism and the mobility to make things happen on the court. She was very good on the pick and roll as she can catch the ball on the roll down while on the move to finish inside. She is a good rebounder inside who will also run the court in transition.
Zari Martin (Della Lamb Black 2026): A 5'9″ forward who attacks the basket well and is most effective when she gets to her dominant left hand. She's physically strong and she is very shifty off the dribble to get into the lane. She also rebounds the ball well in traffic. She is also a good ball handler who gets the ball in the middle of the press to make good decisions.