The Prep Hoops staff added a lot of new faces to the rankings for New England class of 2023. Here we look at 5 new additions.
Paige Fourtin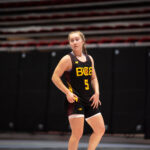 Paige Fourtin 5'5" | PG Notre Dame Fairfield | 2023 State , Norte Dame Fairfield, HT 5'5, Position PG
Paige Might not be the tallest player on the floor, but that doesn't stop her from being aggressive, and attacking downhill. She has the ability to be a slasher, and can get going from three point range. She is a consistent shot maker. She is a crafty player, that continues to improve.
Addison Hunter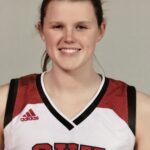 Addison Hunter 6'0" | PF Champlain Valley | 2023 State , Champlain Valley, HT 6'0, Position PF,
Addison is a post player, who is physical, and  strong. She has good fundamentals in the post, and really improved her finishing skills at the rim. She also has the ability to shoot the three and stretch the floor. She is good on the pick and roll, and at taking advantage of the mismatches.
Sydney Hanley Sydney Hanley 5'11" | PF Loomis Chaffee | 2023 State , Loomis Chaffee, AAU NE Crusaders, HT 5'11, Position PF
Sydney is a big, who should see more of a bigger role in her senior season. She can run the floor, and has good length. She is good on defense at forcing turnover in the lane. Sydney is getting more aggressive, and assertive. I think Sydney can prove her potential next season.
Shelby Wells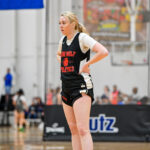 Shelby Wells 5'9" | SF State , HT 5'9, Position Wing, 
Shelby can play the guard or the forward position. She likes to play on the wing, and is a player who plays well within the offense. She has the ability to be a facilitator, or a scorer. She is really improving her jump shooting, and has a nice mid range pull up.
Nevaeh Clark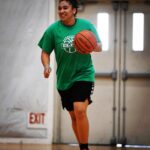 Nevaeh Clark 5'9" | CG Cromwell | 2023 State , Cromwell, Position CG,  HT 5'9, I Dream
Nevaeh is a versatile player, who can play position 1-3. She has good size and strength for a guard. Last season she averaged over 10 points a game, while shooting 40 percent from the field. She also averaged over 6 rebounds a game, over 5 assists, and over 2 blocks a game. Nevaeh is one of the better rebounding guards I have seen play. Nevaeh has seen her stats go up every season, and I think that will continue in her senior year.