North Meck hosted their annual invitational last month where high school athletes could prove that they are still season ready in the middle of the summer.  Here are some of the ball handlers that stood out at the event.
Molly Burns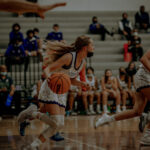 Molly Burns 5'7" | CG Ardrey Kell | 2024 NC | Ardrey Kell | 2024
Burns is playing well as a floor general for her team running plays.  She moves well without the ball, too, finding the openings on the floor to put up her shot.  She has a nice jump stop that she can even use in transition making sure she scores on fast breaks.
Jazlyn Harris | Hopewell | 2024
Harris was doing it all for her team scoring with drives to the basket and stepping back for some jumpers.  As one of the main ball handlers for her team, she did well facilitating plays and showed the importance of jumping into passes when they were sent her way.  On defense, she was jumping in front of her opponents blocking passes making it difficult for them to get any kind of play going.
Jocelyne Grier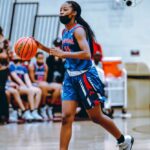 Jocelyne Grier 5'8" | CG North Meck | 2025 State NC | North Meck | 2025
I'm excited to see Grier (featured photo) continue to grow after having a strong freshman season under her belt.  With injuries to two starters at the invitational, she really stepped up for her team knocking down shots from deep and keeping her composure handling the ball against tough defenders.  She's a versatile defender herself being able to handle guards with ease as well as posts trying to seal her off.