North Meck hosted their annual invitational in the last week of June providing spectators with some great competition between top schools in the area.  These athletes were dominant from the block.
Sheree Gidney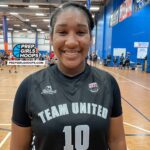 Sheree Gidney 5'11" | PF Hickory Ridge | 2024 State NC | Hickory Ridge | 2024
Gidney seals off her opponents making sure the paint belongs to her when she's on the court.  She is patient when waiting to block shots knowing how to make sure her only contact is with the ball.  She's vocal, too, using her good vantage point from the post to let her teammates know where the threats are on the court.
Jerin Truesdale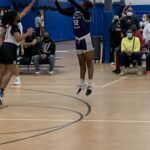 Jerin Truesdale 5'9" | SF Myers Park | 2024 State NC | Myers Park | 2024
Truesdale was showing off her spin moves in the paint.  She can handle the ball driving hard to the basket with some nice fingertip rolls to get the ball through the hoop.  She is great with her fundamentals when it comes to boxing out to grab her rebounds.  She had a nice play where she grabbed the rebound on one end and took it all the way showing off a reverse lay up to score her points in transition.
Makayla Noble | Salisbury | 2024
Noble was making strong moves on the block getting her points after sealing off her opponents.  She is quick with the ball knowing how to move to keep her opponent at a disadvantage, and she doesn't shy away from battling against contact.
Lauren Farrell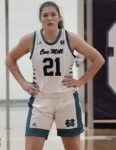 Lauren Farrell 5'11" | C Cox Mill | 2025 NC | Cox Mill | 2025
Farrell (featured photo) is expanding her game knocking down shots from deep.  She is a strong presence inside, too, making sure she can score off of offensive rebounds.  She uses a strong power dribble to get into position as she turns to the basket and scores, and she has a nice spin move to give herself some space in the paint.