After watching some North Dakota high school ball in the last couple days, I wanted to mention some up-and-comers, those on the rise, and those already producing at a high level.
Adyson Hannig Adyson Hannig 6'0" | C Maple River | 2025 State ND  – 6'0 C 2025 – Maple River – Adyson displayed an impressive frame as a 6'0 Freshman post. Strong and athletic. A lot of potential and areas to improve in. But overall, a college-size frame as a 2025 prospect.
Josie Jensen Josie Jensen 6'2" | C Northern Cass | 2024 State ND  – 6'2 C 2024 – Northern Cass – Josie is one of the lengthier prospects in the state at 6'2 and a great wingspan. She's surprisingly very strong in the paint. Will battle on defense and push back in the post. Holds her ground really well given her slender frame. Very strong on the offensive glass.
Sophia Headley Sophia Headley 5'10" | SG Bowman County | 2025 State ND  – 5'10 G 2025 – Bowman County – Sophia is a prospect that I'm very high on. She can do everything necessary on the court. A two-way player that can shoot the three and defend tightly. Plays with good defensive positioning and technique for such a young prospect. One of the smarter defenders you'll find in high school basketball. Has a good combination of size and movement. I think she's a prospect that will develop into a Division II prospect, and I currently have her as the #8 ranked prospect in the 2025 class.
Jocelyn Schiller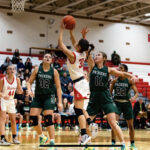 Jocelyn Schiller 5'7" | PG Grand Forks Red River | 2024 State ND  – 5'7 PG 2024 – Grand Forks Red River – Jocelyn produced at an elite level in just her Sophomore season. She has the ball in her hands a lot and she makes it happen for her team. A ridiculous stat-line of  21.4 ppg, 5.7 apg., 5.5 stls., and 4.2 rpg. All-Stater and an attacking guard with a big motor and big energy. In the queue, I have her as the #2 2024 prospect.
Karew Lamoureux Karew Lamoureux 5'7" | SG Minot | 2025 ND  – 5'7 SG 2025 – Minot – Saw her briefly for ND Attack and she stood out quite a bit. Someone to watch for Minot, with their already stacked roster.
Natalie Larson Natalie Larson 5'8" | SG St. Mary's | 2025 State ND – 5'8 SG 2025 – St. Mary's – Natalie is an under-the-radar prospect that needs to be known. She averaged 6.2 pgg. and made 23 threes as a Freshman.
Ella Speidel Ella Speidel 5'11" | C Grand Forks Red River | 2026 ND  – 5'11 C 2026 – Grand Forks Red River – Was a varsity contributor in her eighth-grade season, with 3.2 ppg. and 3.4 ppg. She's a true interior prospect and already has solid size. A future college and scholarship-level prospect.
Mesiku Hakim Mesiku Hakim 6'0" | PF Fargo Shanley | 2024 State ND  – 6'0 F/C 2024 – Fargo Shanley – Mesiku had a massive breakout season for Shanley. She averaged a near double-double with 14.7 ppg. and 9.3 rpg. A strong interior finisher and rebounder. Also, a versatile defender that can defend in the post and on the perimeter. Good length and movement at 6'0. She could contend to be a Class A All-State player.
Teigan Malo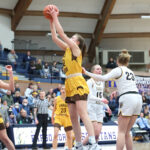 Teigan Malo 5'10" | C Fargo South | 2024 State ND  – 5'10 C 2024 – Fargo South – Teigan was another breakout star this last season for Fargo South. She averaged a double-double with 11.7 ppg. and 10.4 rpg. She is undersized in the post, but simply produces and gets the job done and contributes. Her scoring numbers could sky-rocket with the departure of D2 commit, Wagner.