North Georgia Summer Recap: 2023 Standouts
2023 5-5 CG Kristina Peach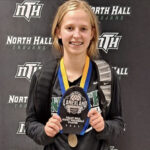 Kristina Peach 5'5" | SG North Hall | 2023 State GA – North Hall
Peach doesn't pop out at you physically when you first glance at the North Hall lineup, but the Michigan-native is an elite shooter when her feet are set. Kristina is among the best three-point shooters in Georgia. The specialist has a feathery touch from beyond the arc and sees the floor well when playing point guard. She's deceptively quick on defense, leading to many steals in the press. Working on her off the dribble game will help her development. D-III and NAIA programs are showing interest.
2023 5-5 PG Meredith Franklin – North Forsyth
You can tell that Meredith has been in the weight room. She's a strongly built guard, similar to that of outgoing Haelim Adle. Franklin handles the ball a lot with her left hand but is actually right-handed and finishes well with both around the rim. Meredith keeps her head up when facing pressure and is a good passer.
2023 5-7 CG Kamryn Gardner – North Forsyth
One of my sleeper picks to have a breakout senior season is Kam Gardner. I like how well-rounded she is on offense. She's a solid athlete that can attack off the dribble and deliver accurate one-handed passes on the move. Gardner has a subtle shiftiness to her game and can get into the lane consistently. Kam is a skilled finisher that also has a pretty short-range pull-up to shoot before hitting the length of the defense. Gardner has a compact form and is an accurate three-point shooter.
2023 5-10 W Erin Whalen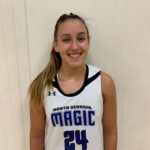 Erin Whalen 5'10" | SF North Forsyth | 2023 State GA – North Forsyth
The All-State wing checks all the boxes. Even when she isn't scoring as much as other top swingmen in the state, it's her floor game and instincts that make her special. She's a terrific offensive rebounder that knows how to read shots off the rim. Whalen is a smooth finisher inside and a playmaker in the high post. Erin can play 1-5 at the high school level. She's an unselfish cog that will play any role in the North Forsyth machine. Gadsden State is the first of many offers that will come her way.
2023 5-6 PG Aaniyah Allen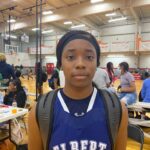 Aaniyah Allen 5'6" | PG Elbert County | 2023 State GA – Elbert County
D-II schools need to be on Aaniyah Allen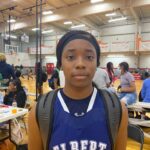 Aaniyah Allen 5'6" | PG Elbert County | 2023 State GA harder. She's an electric player in the open floor and a lockdown on-ball defender. Allen made a statement in a 50-47 overtime win against Lumpkin County in a battle of state champions, dropping a game-high 25 points, 5 rebounds, 3 assists and 1 steal. Allen is adept at getting to the basket and has a sharp pull-up jumper to keep defenders off balance. Aaniyah is the perfect fit for a school that wants to pick up the tempo and play an attacking style of defense that guards 94-feet.
2023 5-4 G Niya Moon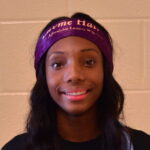 Niya Moon 5'4" | CG Elbert County | 2023 State GA – Elbert County
The quick trigger of Niya Moon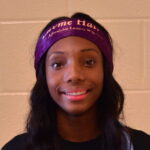 Niya Moon 5'4" | CG Elbert County | 2023 State GA has propelled her to being one of the most dangerous three-point shooters in the state. Moon is as tiny as they come, but she's a tenacious defender and true floor spacer. If colleges can over look her size, they are getting a jolt of energy on their roster that can impact games on both ends of the floor.
2023 5-10 C Brenasia Faust – Elbert County
I've long touted Brenasia Faust as the X-Factor for the undersized Blue Devils and she proved it again vs. Lumpkin County posting 2 points, 8 rebounds, 2 assists and 4 blocks. Faust is a tremendous interior defender that plays bigger than her size. Offensively, she can convert layups and is good from 15-feet. Faust can be a sneaky good pick up for small schools.
2023 5-4 G Jameria Allen – Elbert County
Allen hit the game-winning three in the corner at the buzzer in overtime against Lumpkin County, both teams missing at least one key starter. Allen stepped up with 9 points. She hit jump shots and was a capable defender that honed in on any Indian mistakes.