One of the biggest things to watch during the summer are the players who open the eyes of coaches and opponents with improved play. It's not difficult to find the players everyone writes about, but for those who makes a name for themselves in July, those are the players who are the rising players to take note of.
Yesterday we looked at Northwest Ohio with Team 419, now we head to the other side of the Buckeye state with Ohio Xtreme in Northeast Ohio. A very solid program always looking to promote their talented players. A look at a few of their players who made you notice this summer.
Abby Garner, 5-8 2023 Walsh
She has a good stepback shot from the perimeter and can connect from the three. Strong physical kid who stays after the play, plays with intensity and won't give up on the play. Good quick release and solid handles, able to create separation from her defender. Not afraid to put the ball on the floor and get to the rim. Really a good leader on the court and her stock is rising. Receiving some solid interest.
Emma Rasmussen Emma Rasmussen 5'5" Archbishop Hoban | 2023 OH , 5-6 2023, Akron Hoban
Received an offer from Siena Heights, Emma (pictured above) is the epitome of what a hard worker is supposed to do. She does all the little things well showed this summer that she plays bigger than her size. As a point guard, she shows very good leadership, can play physical and mix it up in the paint. Good on the glass, can finish through contact. Also can hurt you from the perimeter.
Janet Eriksen, 6-0 2023, North Canton Hoover
Good sized guard who according to her AAU coach, is a record holder at Hoover when she dials it up from the perimeter. Not only is she the school record holder from the three-point line at 50%, she also is automatic from the free throw line at 95%, another record. She can finish well at the rim and put the ball on the floor to create scoring chances. Can play in an uptempo style of play. Offer from Tiffin and Bethel College.
Hadley Hajdu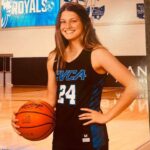 Hadley Hajdu 5'8" | SG Cuyahoga Valley Christian Academy | 2024 OH , 5-8 2024, CVCA
Very quick and athletic and strong build. Great defensively and has become a main ball handler and distributes well.  Great in transition and now is a big scoring threat, does a good job to get second-chance points with her constant movement. Has gotten D2 offer from Kentucky Christian and gaining interest in D1.
Cam Hoover Cam Hoover 6'1" | SF Woodridge | 2024 State OH , 6-1 2024, Woodridge
She opened the eyes this summer with her ability to score consistently from the perimeter including the three. Long and athletic, able to create for her team on both sides of the ball, and in the paint, she is a very efficient defender. Very good rebounder, strong hands and a good physical presence. As her game continues to grow, watch for her interest to continue to grow as well. Holds a Kent State offer.
Sam Stask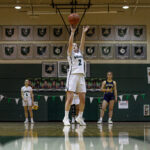 Sam Stask 5'6" | PG Aurora | 2024 State OH , 5-6 2024, Aurora
Like Cam, she caught the eye of a lot of people with her solid play this month and prior. She can play either guard spot and does an excellent job when she gets to the free throw line. Good range out behind the three, you better get a hand in her face. Good ball distributor and can play fast. She also has an offer from Ursuline.
Mallory Oddo, 5-9 2023, Green
She plays bigger than her height. Mallory has great finishing moves around the basket to go along with her strong midrange game. She is solid on the boards, showing the ability to rebound and take advantage of second chance scoring opportunities. She is a hard-nosed player who is around the ball. Starting to get noticed!