Here are some more Spooky Nook standouts from the East Coast Summer Showcase.
Sofia Mazzotta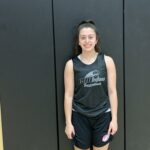 Sofia Mazzotta 5'7" | CG |EVO|5'6''|PG|'23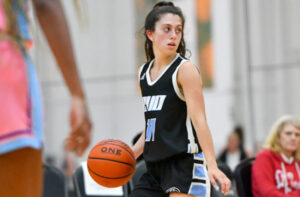 I liked Mazzotta's shot-making and decision-making throughout the event. Mazzotta played her best basketball in the game's biggest moments and made key plays down the stretch. She was confident, played with poise, and constantly maneuvered and finished in traffic. Mazzotta has the quickness and speed to slash effectively, and when assertive, she is one of the more valuable players on the team.
Anna Foley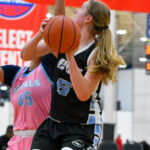 Anna Foley 6'3" | PF Andover | 2023 State |EVO|6'3''|PF|'23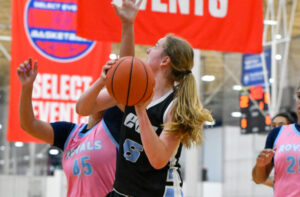 You can always count on Foley to play at a high level on both sides of the ball every game. She can play inside out, and her shot creation off the dribble was impressive. Foley always plays under control and rarely forces anything. When she puts the ball on the deck, Foley can convert dribble pull-ups or get to the rim, where she routinely draws fouls. 
Alexandra Loucopoulos| NJ Gemz| 5'9''|CG|'23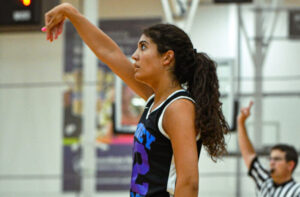 Loucopoulos brings a lot to the table offensively. She is a three-level scorer who attacks aggressively, a strong rebounder, and a dynamic playmaker in transition. Loucopoulos can be used as a spot-up shooter on the wing or be the primary facilitator who orchestrates the offense. I like the various ways you can use Loucopoulos, who showed her diverse skill set game after game. 
Olivia Sands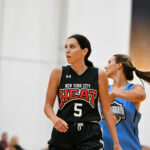 Olivia Sands SG Monsignor McClancy | 2023 NY | NYC Heat|5'11''|SF|'23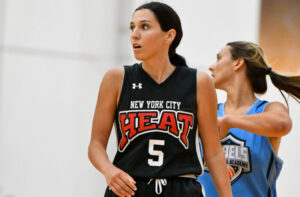 Sands is a hard-nosed rebounder who is a magnet to the ball off the rim. She secured many offensive rebounds and powered up for second chance opportunities. I also liked how confident she was playmaking in the high post. Sands hit cutters in stride going back door, can put the ball on the floor and create off the bounce. 
Erin Bohmueller|Mid Atlantic Magic|5'11''|SG|'23
Bohmueller's size and shooting stroke initially pop out at you. What was most impressive about Bohmueller's game was her inside/out scoring versatility. She recognizes mismatches and takes advantage of them. For instance, Bohmueller had a significant size advantage on her defender, brought her down into the post, demanded the ball, and hit an impressive fall-away jumper. She was so smooth and fluid scoring the basketball throughout the game.
Sydney Gerossie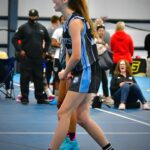 Sydney Gerossie 5'9" | PG Pinkerton Academy | 2025 State |Team Saints|5'9''|PG|'25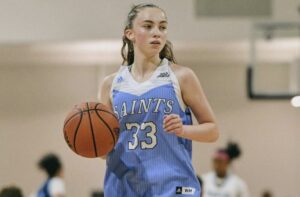 Gerossie was a scoring machine at Spooky Nook and has become one of New England's most dangerous outside shooters in the '25 class. Gerossie has made scoring off the dribble look easy, and defenders have struggled to keep her from getting into the second level. Her downhill playmaking is as dynamic as it's been, and I think she has the most upside out of all the point guards in her class.
Stella Higgins Stella Higgins 5'9" | SF Manheim Central | 2025 NY |717 Hoop Dreams|5'9''|CG|'25
I liked Higgins' activity on defense and how she used her length to be a disrupter in passing lanes. She has good ball-hawking skills and racked up a number of deflections that led to her team scoring in transition. Higgins also was smooth going coast-to-coast with the ball. While weaving in and out of defenders, Higgins was in control, kept her eyes up, and made smart decisions with the ball.
Harper Poff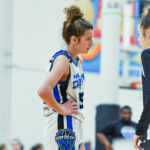 Harper Poff 6'0" | PF Dallastown Area | 2025 NY |717 Hoop Dreams|6'0''|PF|'25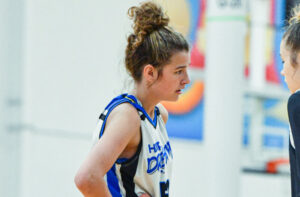 Poff's ceiling is super high mainly because she is a power forward who is confident handling the ball. I like that Poff will pull down a defensive rebound, immediately push the ball up the court, and be a playmaker. She can also stretch the floor with her shooting. Poff has the athleticism, strength, and size to be a dynamic two-way forward. 
Charlotte Miller Charlotte Miller 5'5" | PG Kent | 2023 NY | CT Elite| 5'6''|PG|'23
Miller did a good job facilitating and orchestrating the teams' offense throughout the entire East Coast Summer Showcase. She was making crisp passes and showed good leadership. I was also impressed with Miller's shooting range. She confidently launched and converted deep three pointers, making it look easy. I like Miller's toughness and poise when handling pressure; she doesn't get rattled easily. 
Colleen Blackman Colleen Blackman 5'10" | SG Immaculate | 2023 NY |CT Elite|5'9''|SG|'23
Blackman was lights out from the perimeter and had no issue rising up over the defense and drilling three-pointers. She is crafty with the ball and doesn't need much space to get a good look at the rim. With her length and size, Blackman can take advantage of most matchups and shoot over the top of them.