Teams from around the country traveled to the Chicagoland Area for PGH 2K22 as the final Live Event for the PGH Circuit. The event is taking place at the Romeoville Athletic & Event Center that holds 10 beautiful, wood courts. Here is your 16U First Team All-Tournament:
Kate Saccaro | Full Package Black
I wrote about Kate as a top performer already, so it is no surprise that she gets a spot on the First Team! FP Black was one of two undefested teams with a 4-0 record and a 1st Place finish in Pool A. KJ was one of the top guards I saw at PGH 2K22. The confidence in her shot made it look like every shot she put up was going to go in. She hit two big three's for her team at the end of the first half in the game I saw within 10 seconds of each other. Outside of her shot, she handles the ball well and pushes it up the floor with good control. I'm a fan of her energy on defense, too!
Emma Fohl | Cincinnati Heat Premier Gold
Emma led CHP Gold Parker to a 1st Place finish with a 4-0 record in Pool B. She is a tough PG that gets to rim with one of the better crossover dribbles I've seen. The 2024 guard sees the floor very well and makes her teammates look better on every play. Her runner game and ability to hit some shots with some crafty finishes around the rim made her one of the top 16U guards in Romeoville.
Autumn Dibb | 24:Up
As a Top Performer from the event, it's not a shock to realize she was one of the top 5 players I saw in Romeoville. Autumn helped lead her team to a 3-1 finish which earned 24:Up 3rd Place in Pool B. In one of the games I watched first, she went off in the first half of their first game with 23 points on baskets from all over the floor. She is a long, rising Sophomore that plays up a class and competes at a high level. Her motor and energy were very high as she chased down a ton of rebounds and blocked some shots. Autumn can score it in bunches and take over a game. Big upside from this 2025!
Hailey Freshcorn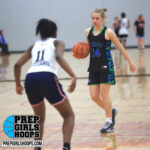 Hailey Freshcorn 5'8" | PG Columbia Central | 2024 State MI | MSF Flight
The 2024 from MI was mentioned in a couple articles from her time in Romeoville already, so here she is again as one of the top players in all of 16U. Hailey lead her Michigan squad to a 3-1 (2nd Place) finish in Pool A. She can put up points in a hurry from all three levels with efficient numbers. Her energy is good on both ends which allows her to make a lot of big plays for her team. On offense, she dishes the rock well and gets her teammates involved. Hailey was the best pure shooter at PGH 2K22, and she was also one of the best ball handlers who pushed the ball while staying under control and not forcing anything.
Paige Simon | Full Package Neon
Paige helped her talented team earn a 2nd Place finish in Pool B with a 3-1 record. She can knock it down from anywhere and does a good job of controlling the pace on offense. On defense, she has active hands and puts pressure on the other team with her high energy play. Paige is one of those players you want on your team if you are a coach or a player.
---
Brandon Fisher is a Senior Scout for Prep Girls Hoops Florida and a Regional Scout for the PGH Circuit. If you have any information on players or teams, please email Brandon at brandonpghfl@gmail.com or DM him through Twitter/Instagram at @BrandonPGHFL.