Teams from around the country traveled to the Chicagoland Area for PGH 2K22 as the final Live Event for the PGH Circuit. The event is taking place at the Romeoville Athletic & Event Center that holds 10 beautiful, wood courts. Here is your 16U Second Team All-Tournament:
Maddux Overweg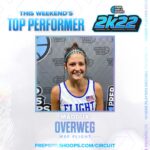 Maddux Overweg CG Springport | 2024 State MI | MSF Flight
MSF Flight was full of quality guards, and Maddux made an immediate impact on her first tournament with the team. The Michigan squad went 3-1 and placed 2nd in Pool A behind a really strong roster. Maddux is a really strong all-around player from Michigan. She shot the ball really well from deep, and when I say deep, there were a couple from WNBA range. I appreciated how hard she played on both ends and came up with some nice steals. Outside of her shooting on offense, she saw the floor well and dished it to her teammates for some easy buckets.
Ava Hanson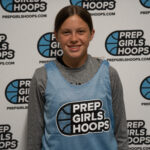 Ava Hanson 5'6" | CG Oshkosh North | 2024 State WI | 24:Up

Post players are tough to find in the sport of basketball, especially of the girl's side. This Wisconsin post helped her team go 3-1 in a tough pool. Ava was the top post players I saw on Thursday. She has good height and size, but she can also step outside to knock it down. I liked how well she ran the floor for a 6 footer. When she got the ball inside, she displayed strong footwork and strength inside to finish with the left and the right hand. Ava controlled the boards and will be a sought after true post that colleges are in need of.
Zoe Brown | Full Package Black
Full Package Black went undefeated in Pool A with a record of 4-0 thanks you one of the best posts at the event – Zoe Brown. Zoe is a long lefty that is very versatile. She's tough in the paint as a shot blocker and a strong rebounder, especially on the offensive end. She can finish with strength with both hands and played the interior as good as most true posts with some crafty finishes and quality footwork. Zoe put up 13 points in their win over Alabama Twisters Elite.
Mara Mitchell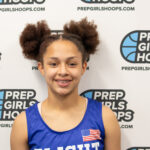 Mara Mitchell 5'6" | SG Jackson Northwest | 2024 State MI | MSF Flight
The first player that caught my eye from a strong MSF Flight team was Mara. They went 3-1 by losing one tough game to Full Package Black by 4 points. Mara was a quick, shifty guard that made defenders look silly at times. She accurately made a few skip passes that had the defense on their heels, and she had some crafty moves that led to buckets or open teammates. Her Euro-step was clean, and she had some off-foot finishes around the hoop that were really difficult to stop.
Veronica Bafia | Illinois Dream
Veronica was an impressive hooper for an IL Dream team that went 2-2 with both of their losses being tight games. She utilized the shot-fake better than most players I've seen this summer, and she was tough to stop when she was getting downhill after beating her defender off the dribble. She also has good length that she used to block shots and hit  pull-up jumpers over her defender. Along with that shot-fake, she has a strong hesitation dribble that fooled defenders on Thursday.
---
Brandon Fisher is a Senior Scout for Prep Girls Hoops Florida and a Regional Scout for the PGH Circuit. If you have any information on players or teams, please email Brandon at brandonpghfl@gmail.com or DM him through Twitter/Instagram at @BrandonPGHFL.