With the Prep Girls Hoops 2K22 event from Chicago in the books, it is time to give recognition to those who stood out among the standouts.
The two-day tournament was one of several girls AAU events that were taking place in and around the city. In addition to teams from the host state of Illinois, those from other states such as Indiana, Wisconsin, Michigan, Alabama, Texas and New Mexico also took part.
Many of the noteworthy performances that occurred came from the 17U teams. Without further adieu, here is a look at who made our 17U All-Tournament First Team.
Aubrey Galvan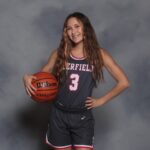 Aubrey Galvan 5'7" | PG Deerfield | 2025 IL – 2025 – Deerfield HS – Full Package 2023 Black – Galvan has established herself as one of the biggest eyebrow-raisers among Illinois' 2025 class with her hair-raising skills. She brings plenty of energy every time she steps on the court and wows many an onlooker with her creative, but effective play. Part of that creativity comes with how she dishes the rock out to her teammates and she is very quick and tough. Galvan also manages to put points on the board while limiting turnovers. In a matchup with Big3 2023 Pam, she tallied 15 points. She has an offer from SIU-Edwardsville in addition to those from a pair of Big Ten schools in Minnesota and Wisconsin.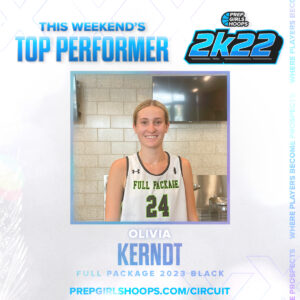 Olivia Kerndt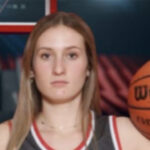 Olivia Kerndt 6'0" | PF Deerfield | 2023 State IL – 2023 – Deerfield HS – Full Package 2023 Black – A participant on one of the many Full Package teams that were on hand in Romeoville, Kerndt has a chemistry with Galvan given both are Warriors. Her versatility enables her to muster productive minutes virtually anywhere on the floor. What she does as a scorer combined with what she does on the glass make her a consistent threat to post double-doubles. Kerndt can also be effective in the transition game and can score by attacking the rim. Her team finished a perfect 4-0 for the weekend in the Chicago area. Kerndt received an offer in May from Illinois Wesleyan.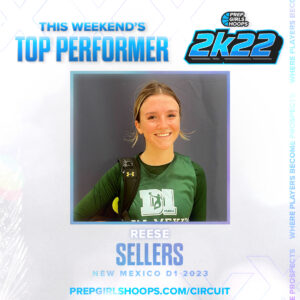 Reese Sellers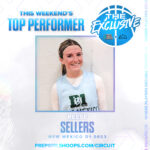 Reese Sellers 5'5" | CG Yuma Catholic | 2023 State AZ – 2023 – Yuma Catholic – New Mexico D1 2023 – Sellers plays for a New Mexico-based travel team, but Arizona is the state she garners attention and headlines. A few of those recently came from offers she picked up from Northland College, Alma College and Lake Forest College. A backcourt stalwart for the Shamrocks, she is listed at 5-foot-6 and combines athleticism with an ability to put up points from anywhere on the court. Defenses find it a chore to contain her with her multi-dimensional skillset and it is one that includes ball distribution and defensive work. Sellers has also taken part in other sports such as soccer, track and field and volleyball. She averaged 16.4 points, 6.2 steals and 5.8 assists in 2021-22 as the Shamrocks went 21-8 (7-1 3A West Conference).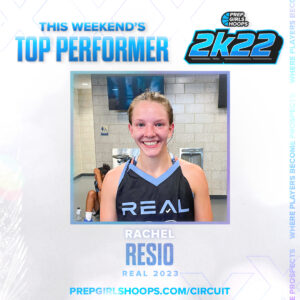 Rachel Resio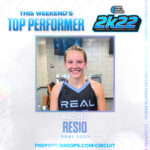 Rachel Resio PG Swan Valley | 2023 State MI – 2023 – Swan Valley HS – Real 2023 – Resio is also a multi-sport athlete with softball being her alternative athletic discipline of choice. Listed at 5-foot-6, she thrives in the backcourt as a point guard. She can shoot the 3-pointer efficiently and come through with big plays on defense. Resio approaches every game she takes the court in with a fearless attitude and will go directly at a sea of defenders with the ball in her hands. In one of the more competitive games of the two-day event, she tallied 15 points to lead Michigan-based Real 2023 to a 47-44 victory over Wisconsin-based TML Splashers.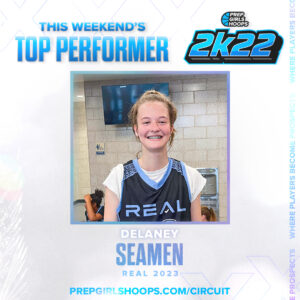 Delaney Seamen – 2023 – Ithaca HS – Real 2023 – Seamen's Real 2023 squad was one of only three among the 17U teams that went a perfect 4-0 for Prep Girls Hoops 2K22 – and the only one in Pool C. She thrives as a volleyball player in addition to basketball. Seamen is gifted as a ball distributor as well as a scorer. One way she gets herself and her team on the scoreboard is via how effective a 3-point shooter she is. Defensively, she comes through as a ball hawk and that can translate into her ability to make things happen in transition. Seamen had a 13-point performance (including three 3-pointers) in a hard-fought 47-44 win over TML Splashers 2023.