Some of the nation's top teams – including those from the 17U class – converged on the Chicago suburb of Romeoville for what was two days of scintillating basketball.
Prep Girls Hoops 2K22 – one of several girls AAU events occurring in the area – welcomed roughly 40 teams to the Athletic & Events Center in Romeoville. In addition to the Illinois teams that were on hand, there were teams there from other Midwestern states such as Indiana, Michigan and Wisconsin along with teams from Alabama, New Mexico and Texas among others.
After unveiling our 17U First and Second Teams, there was so much talent among 2023 teams at Prep Girls Hoops 2K22 that several standouts were worthy of honorable mentions.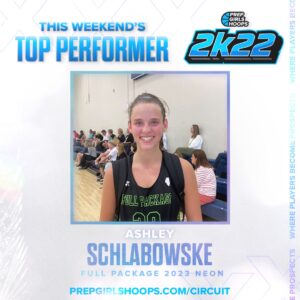 Ashley Schlabowske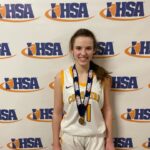 Ashley Schlabowske 5'6" | PG Carmel Catholic | 2024 State IL – 2024 – Carmel Catholic – Full Package 2023 Neon – Schlabowske can look back at her time on the Prep Girls Hoops Circuit with plenty of glee as she made the Second Team All-Tournament for the Victory Region. She is unafraid of drawing contact and taking opportunities at the free throw line. Schlabowske manages to handle the ball well and limit turnovers in addition to combining excellent court vision with a high basketball IQ. In addition, she will take her opportunities from behind the 3-point line as well. Schlabowske closed out her Prep Girls Hoops 2K22 with a 14-point performance as Full Package 2023 Neon in a high-octane offensive battle with Alabama Twisters Elite 2023.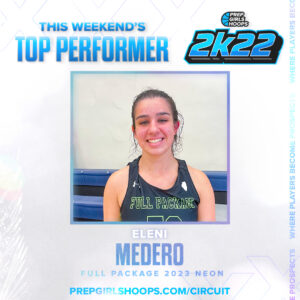 Eleni Medero – 2023 – St. Ignatius College Prep – Full Package 2023 Neon – Medero also saved some of her best for last when she scored 17 points as Full Package 2023 Neon was locked in an offensively-charged contest with Alabama Twisters Elite 2023. Leave Medero open from behind the 3-point arc and she is very likely to increase her team's offensive output by three. Medero is also a threat to steal the ball and will draw contact to get to the free throw line. She is poised to be one of many 2023s that will close out their high school careers with an exclamation point.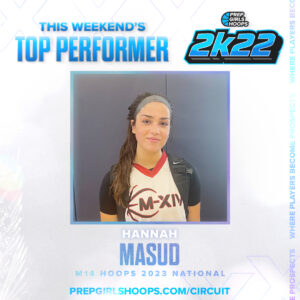 Hannah Masud – 2023 – St. Charles East HS – M14 Hoops 2023 National – The final representative from an Illinois team on our list, Masud has a skill for taking care of the ball and limiting turnovers. She also understands basketball is a game played on contact and that enables her to absorb said fouls and be at the free throw line. Defensively, she is a force to be reckoned with as she is prone to steal the ball and go the other way with it. In a close matchup between M14 Hoops 2023 National and New Mexico D1 2023, Masud scored 14 points.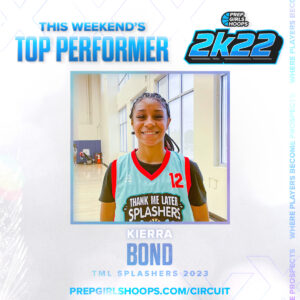 Kierra Bond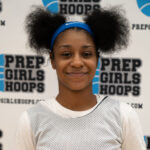 Kierra Bond 5'7" | C Riverside | 2023 State WI – 2023 – Riverside HS – TML Splashers 2023 – Bond made more than the most of her live period week in Chicago. She is listed at 5-foot-9 and the rising senior knows how to weave her way through a slew of defenders and finish at the cup. Defensively, her arms stay active in an effort to throw off an opposing ball carrier and she will also change who she guards as her team is in a defensive stance. Bond is confident as well as she will call for the ball when she believes she will make a play. She has competed in track and field events previously and scored 13 points on Thursday around the tail end of the schedule in a game vs. Real 2023.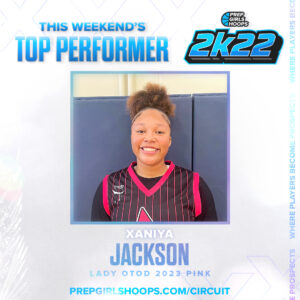 Xaniya Jackson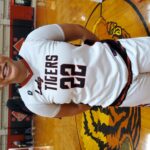 Xaniya Jackson 6'1" | PF Andrew Jackson | 2023 State FL – 2023 – Andrew Jackson HS – Lady OTOD 2023 Pink – We have come accustomed to writing about her after Circuit events as she has had impressive showings at the Triumph Region Kickoff and at Southeast Slam. Jackson is a rising senior who also partakes in flag football. She provides an imposing paint presence that comes in useful as a high-percentage scorer and with her rebounding and shot-blocking. Jackson will display her versatility on both ends of the floor as someone who has no problems putting in work – offensively or defensively – on the perimeter. Several of her Lady OTOD 2023 Pink teammates are also Tigers. She had 11 points in a 56-49 win over El Paso Lady Hurricanes 2023 on Friday.