The Chicago metropolitan area was a hub of women's basketball activity this past week from the litany of AAU events that took place to WNBA All-Star weekend. A portion of that activity occurred in the suburb of Romeoville – where Prep Girls Hoops 2K22 took place.
The two-day event welcomed roughly 40 teams to the eight courts at the Romeoville Athletic & Events Center. In addition to teams from the Midwest, there were also kids from states such as Alabama, Texas and New Mexico that also made the trek.
We unveiled our 17U All-Tournament First Team. Without further adieu, here is who made the 17U Second Team in the Second City.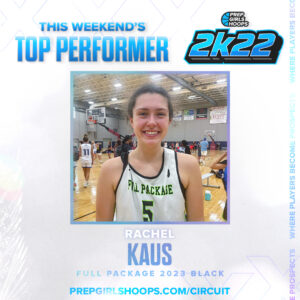 Rachel Kaus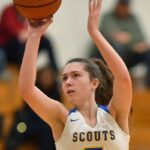 Rachel Kaus 6'0" | PF Lake Forest | 2023 State IL – 2023 – Lake Forest HS – Full Package 2023 Black – Kaus' travel team was one of three among the 17U teams that went a perfect 4-0 for Prep Girls Hoops 2K22 – and the only one in Pool A. Kaus is listed at 5-foot-10 and can be versatile as a talent who shines as either a forward or a guard. She can make things happen near the rim either as a scorer and a rebounder. Kaus knows when to score, when to pass and when to attack the rim – which she is gifted at. She is beginning to get more attention from college coaches as she was offered by a pair of New York State schools – NYU and Cornell.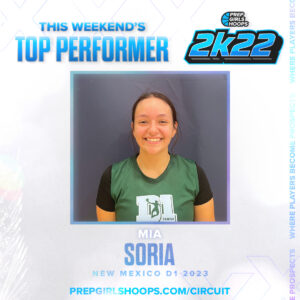 Mia Soria – 2023 – Cibola HS – New Mexico D1 2023 – Soria's AAU team also ran the table at the Romeoville Athletics & Events Center. She can be very effective from behind the 3-point line and can corral steals as a defender. Soria is listed at 5-foot-6 and primarily operates as a guard in the backcourt. She also knows how to make the correct passes and has also found success on the links in the golf realm. Soria had a big performance against M14 Hoops 2023 National with a 10-point outing on Wednesday as that triumph ran New Mexico D1 2023's record to 2-0 at the time.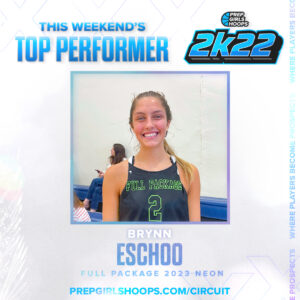 Brynn Eshoo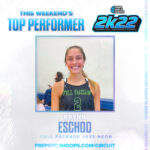 Brynn Eshoo 6'1" | SF Fremd | 2024 State IL – 2024 – Fremd HS – Full Package 2023 Neon – Eshoo made her way onto the Vikings' varsity team after working her way up through the junior varsity squad. She falls under the category of playmaker and this particularly proves itself on the defense end of the floor. Eshoo fills up a stat sheet with steals. She stands at an even six feet – providing a height advantage that comes in handy as a four. That height also comes in useful on the boards. Eshoo scored 21 points towards the close of Prep Girls Hoops 2K22 when her team matched up against Alabama Twisters Elite 2023 in what was a thrilling contest.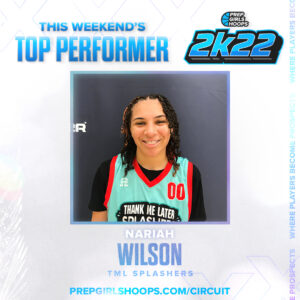 Nariah Wilson – 2024 – Homestead HS – TML Splashers 2023 – The Prep Girls Hoops Circuit accolades continue to compile for Wilson – she was previously at the Victory Region Finals. Wilson approaches every matchup with a fearless attitude and has no issues going at the rim through a slew of defenders. She is a ferocious rebounder – including on the offensive glass. Wilson understands the right times to score and pass, can drain her tries from range and is unafraid of contact which can place her at the free throw line. On the first day of Prep Girls Hoops 2K22, she tallied 16 points in a competitive contest with Real 2023.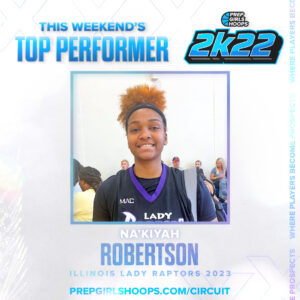 Na'Kiyah Robertson – 2023 – Downers Grove South HS – Illinois Lady Raptors 2023 – When observing Robertson, one can immediately come to the conclusion that she is the ideal big. Except she has skills not always seen in bigs. Robertson is six feet and provides quite the presence as a post player. She will haul in rebounds and convert on high-percentage shot opportunities. Physicality is an element to the game Robertson welcomes as she will draw contact and get to the free throw line. As a shot blocker and consistent threat to steal the ball, she bolsters a team's defensive efforts. Robertson had a 19-point performance in what was a lopsided contest with NWI Tradition Elite 2023 en route to a 2-2 tournament for Illinois Lady Raptors 2023.