The game of basketball in women's sports is becoming more and more exciting by the day. If you were looking to enjoy some good basketball, Prep Girls Hoops hosted Battle in the Sunflower at Wichita Hoops in Wichita, KS on July 16-17th 2022. The competition was good and the games were excited to watch. I covered the 14U and 15U division and these players made big impacts for their teams.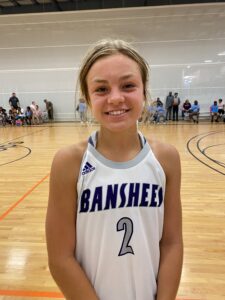 Brinley Collins | 5-4 / G | Bergmann JH | Banshees 2027 Purple
Brinley has some grit to her game because she is not afraid when pressured and makes the right decisions under pressure. She knows how to get to the basket, plays strong despite her size, and can finish with contact. Brinley plays with great anticipation on both ends of the court, getting deflections, steals, and surprisingly out-rebounding everyone on the court. She will run the floor and score easily in transition, has great passing ability, and is a threat behind the three-point line. Defensively, her on-ball pressure is intimidating, and plays the passing lane really well. She seems to be in the right spot at the right times, and the ball finds her. Brinley can flat out play!!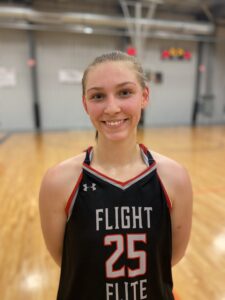 Kaycee McCumber | 6-0 / F | Farmington HS | Arkansas Athletes Outreach Flight 2025
Kaycee is a solid post player that works hard and gets the job done. She uses her frame to her advantage over her opponents, and it's hard to contain her. She can and will guard all positions, and knows where to be when the ball is moving. She is comfortable dribbling the ball within the offense and showed her ability to get downhill towards the basket. Runs the floor really well and is usually the first down the court, and scores at a high clip in transition. If you allow her to get inside position, you will be at her mercy because she will punish you by playing strong or with different moves. She has the ability to stretch the floor with her shot but she is at her best working down low.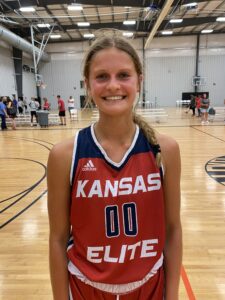 Gabrielle McFall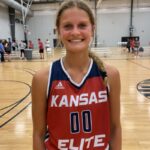 Gabrielle McFall 5'10" | CG Blue Valley Northwest | 2025 State KS | 5-9 / G | Blue Valley Northwest HS | Kansas Elite DDI 2025
Gabriella is a player that plays with a chip on her shoulders. She works hard on defense and is under controlled on offense. She is a high IQ player that can score in multiple ways. She is long, bouncy, and is a production machine. She has the handles and court-awareness to bring the ball up and initiate the offense, and strong enough to post it inside and be a threat by the basket. I saw her hit a couple shots from deep, so she has the ability to shoot it from deep. She will work on defense and caused multiple turnovers. She will block out in the paint, on the perimeter, and will push the break in transition, and sees the floor well.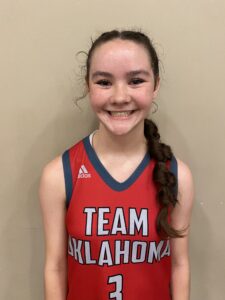 Christyona Harland | 5-9 / SF | Stillwater HS | Team Oklahoma 2025 Red
Christyona is a player that is relentless and won't quit on attacking. The ball finds her and she does a good job of getting to the basket. She able to attack off the dribble, change directions if needed, and finish inside with a strong post move. She has the ability to shoot it from deep and plays with quick hands-on defense. She attacked the basket a lot, made some and missed some, but she did not stop attacking.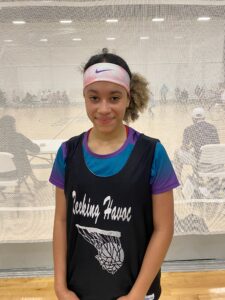 Kennedy Spellman | 5-7 / G | Wreaking Havoc Hoops 2026
Kennedy is a player that will give you her best effort on every play. She handles the ball pretty good and has a quick first step. She uses her footwork and handles to blow by defenders and create open opportunities for teammates. When she is on the court good things happen for her team. Defensively she will pick the ball up at center court and pressure the ball. In a dribble-hand-off scenario, she does a good job switching and maintaining pressure on the ball. She works hard and does a lot for her team.