Prep Girls Hoop coverage continues at Battle in the Sunflower in Wichita, KS with the 14U and 15U athletes that stood out to me and made a big impact on the court. Part 2
Marin Adams | 5-10 / PG | Farmington HS | Arkansas Athletes Outreach Flight 2025
Marin is a player that I would consider to be the glue that keeps everything together on her team. She initiates the offense and sets the tone on defense. She is cool, calm and collected under pressure and uses her length to apply pressure to the other team. She is a willing passer that sees the floor really well, and gets her teammates easy buckets. She pushes the ball and loves to throw the cross-court pass to the open teammate in transition. She is pretty active on the ball defensively, rotates well on the backside, and plays the passing lane. Marin can also hit the shot from deep, and plays with a lot of confidence.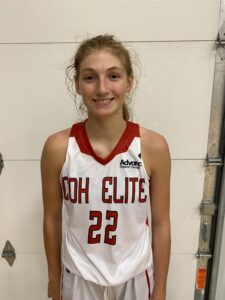 Lauren Miller | 5-11 / CG | Camp Point Central HS | COH Elite 2025 
Lauren is a player that is smooth in all aspects of her game. She handles the ball with swagger and knows how to get to the rim easy. She uses her hesitation dribble to keep defenders on their heels, and her quick step to explode past them. She can knife her way through traffic and uses her length to finish over both smaller and bigger defenders. Defensively she is active and is regularly in the correct spots and uses her length to block shots, get deflections, and rebound to push the ball. She is a willing passer in transition and scores with the best of them in the open break.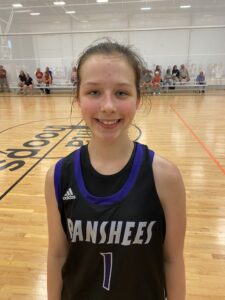 Jacey Halitzka | 5-4 / PG | Bergmann JH | Banshees 2027 Purple
Jacey is a player that is very skilled and showed to be a spark plug for her team. She handles the ball with supreme confidence and makes the defense miss when the ball is in her hands. She does a good job controlling the pace of the game, and when her team needs a bucket, she is on time and will make plays for herself or a teammate. She can shoot it from deep off the catch and can create off the dribble from deep, as well in the mid-range. She is aggressive downhill and can rise up for the one-legged floater when the defense steps up.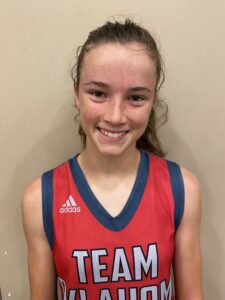 Rylie Burnett | 5-8 / G | Piedmont HS | Team Oklahoma 2025 Red
Rylie is a long, athletic player that will surprise you with her production. Defensively she is a worker and looks to get deflections and steals with her length, which usually gets her going. She is comfortable with the ball in her hands and likes to drive downhill with contact. She can explode past her defender and can shoot it from deep. She has a good looking shot with a high release and is disciplined to hold her follow through every time.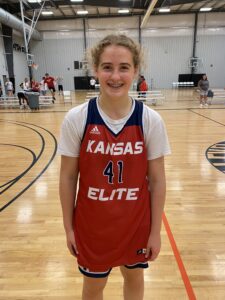 Charlie Windermann | 5-10 / SF | Pembroke Hill HS | Kansas Elite DDI 2025
Charlie is a player that can shoot the ball at a high level, she shoots it well from deep and can hit contested shots. Nice release, a consistent follow through with ice water in her veins. She stepped up and hit big shot after big shot along with crucial free-throws down the stretch to help her team come back and win a big game after being down double digits on day one of the Battle in the Sunflower vs Kansas Elite. She has potential to be an elite shooter that spreads the floor and open  lanes for her team to attack and exploit.