There aren't many events that feature 1400+ teams, 1100+ college coaches, 92 courts, and the chance to play on ESPN, but TFN's Run 4 Roses did just that and more. While it would've been impossible to watch all 1400 teams, I did catch quite a few teams and players throughout the tournament's 4 day span. When I looked at my notes at the conclusion of the tournament, there were a little over 100 players that had caught my eye in some way. This series is going to discuss some of those standouts and it'll be broken down by the division they played in (2023, 2024, 2025, and 2026) rather than the player's class. This article features some of the standouts from the 2023 divisions.
Torri James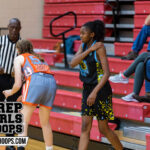 Torri James 5'11" | PF Rossview | 2024 State TN | 2023 TN Sol Black | Class of 2024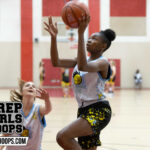 James instantly grabbed my attention when I started watching her team play. She has great length and can score at all 3 levels. James was making strong drives to the basket, knocking down outside shots, and finishing through heavy contact. However, she really dominated on the other side of the ball as well. James was elevating to grab and deflect passes consistently, really disrupting the opposing team's offense. She also showed her strength as a rebounder.
Braley Bushman | Stars Basketball Club 2023 Nashville McLeod | Class of 2023
Bushman was one of the more versatile scorers I watched. She can score in a variety of ways – floaters, layups, 3-pointers, and pull-up jumpers are all consistent in Bushman's game. She also is an excellent decision maker in transition, knowing what move to make, when to stop and pop, and when to give it up. Bushman also showed her strength and toughness. She crashes the boards well and can grab multiple rebounds as well.
Haven Ford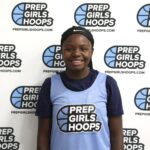 Haven Ford 5'5" | CG Rowan County | 2023 State KY | Kentucky Premier 17U EYBL | Class of 2023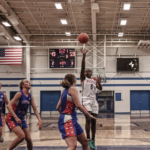 Ford is versatile and smooth. She can get into the paint and finish tough shots or create for teammates. Defensively, she gets out into the passing lanes to grab steals and then she does a really good job of making the right decision in transition. Ford was getting heavily pressured and showed her excellent ball handling skills as well.
Avery Lowe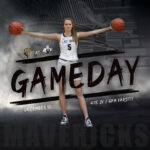 Avery Lowe 6'3" | PF Maize South | 2023 State KS | 2023 SSA Gameball | Class of 2023
Lowe is extremely long and can really shoot the ball. She catches ready to fire and she has deep range on her shot. Lowe also showed how well she uses her length to score in the paint and at the rim. She utilized shot fakes well to get better looks. I was also impressed by how well Lowe moved without the ball. She sees the openings and puts herself in those spots.
Ashantes Lewis | Team Nite Nite 17U | Class of 2024
Lewis was running the floor and finishing strong at the rim. She uses her length well and can come up with a lot of rebounds down low. She also can get her hands on passes and disrupt the offense. Lewis managed to save some really tough passes and got quite a few put back baskets.
Natalie Williams | Team Hickory 17U | Class of 2023
Williams was playing really well inside when I was watching her team. She was dominating the boards, really going after rebounds strong. Offensively, when help defense stepped over, Williams recognized and located open teammates. She also can handle the ball and works to get around box outs. Defensively, she slid her feet well to stay in front.
Emily Wilson Emily Wilson 5'8" | PG CAK | 2023 State TN | ETA Thunder 2023 Smith | Class of 2023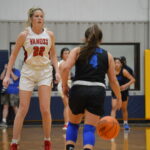 Wilson can make it rain from deep, but she also showed her ability to score inside of the perimeter. She has good height and length, and she can handle the ball. Wilson made some impressive drives to get into the paint and score. She was consistently crashing the boards strong and came up with multiple rebounds as well.
Amanda Ogbonna | 2023 GA Queens Elite | Class of 2023
Ogbonna's strength and ability to move players to come up with rebounds was impressive. She's got good height and really alters shots as a defender. Ogbonna plays with a high motor and she can finish tough shots around the basket. She also draws fouls inside. Her excellent rebounding ability really separated herself from others.