There aren't many events that feature 1400+ teams, 1100+ college coaches, 92 courts, and the chance to play on ESPN, but TFN's Run 4 Roses did just that and more. While it would've been impossible to watch all 1400 teams, I did catch quite a few teams and players throughout the tournament's 4 day span. When I looked at my notes at the conclusion of the tournament, there were a little over 100 players that had caught my eye in some way. This series is going to discuss some of those standouts and it'll be broken down by the division they played in (2023, 2024, 2025, and 2026) rather than the player's class. This article features some of the standouts from the 2023 divisions.
Samaria Tipps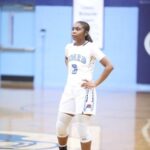 Samaria Tipps 5'6" | CG Fred T. Foard | 2023 NC | Team Hickory 17U | Class of 2023
You can not only rely on Tipps to lockdown the opponent's best player, but you can also rely on her to create for her teammates on the other end of the floor. Defensively, she caused a lot of disruption and has the ability to come up with multiple steals in any given game. Offensively, she can bring the ball down the court or play off of the ball, but either way, she makes an impact. Her IQ shines when you watch some of the passes she makes. She really creates a lot of offense for her team.
Sydney Hayes | Team Hickory 17U | Class of 2023
Hayes' ability to finish through contact was impressive. She had some really tough finishes at the rim and she was finishing through heavy contact like it was nothing. She also consistently runs the floor and her passing ability led to many Team Hickory buckets in transitions. Hayes has good handles as well and she crashes the boards strong. She also is a strong defender who makes things tough on the offense.
Finley Chastain | 2023 SSA Gameball | Class of 2027
While Chastain is in the 2027 class, there is a reason she is playing up 4 divisions. She was running point for her 2023 SSA Gameball squad like she was an elite upperclassman. She has excellent ball handling skills and a very high basketball IQ. She's always willing to make the extra pass and she delivers those passes really well. I was a big fan of her pull-up jumper, but she can score in a variety of ways. She also played excellent defense.
Braci Nyberg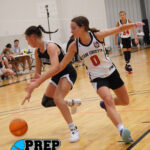 Braci Nyberg 5'7" | CG Seiling | 2024 State OK | 2023 Buddy Buckets | Class of 2024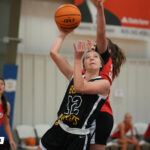 Nyberg is a natural scorer. She can knock down 3's or score from anywhere inside of the perimeter. She has excellent handles and does a really good job changing speeds. When she uses her hesitation, it's extremely hard for the defense to stay in front. When she gets to the rim, she can finish tough shots with contact.
Allison Heathcock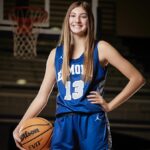 Allison Heathcock 5'11" | CG Edmond North | 2024 State OK | 2023 Buddy Buckets | Class of 2024
What immediately jumped out at me about Heathcock was how well she was able to finish around the rim. As I watched more, I noticed how well she handles the ball and her ability to make good, strong passes with both hands. She also has good length and really crashes the boards hard. Very impressive skillset.