Kimmy Petty- G, 2026, Logan Elm: (Below, with ball) Petty plays hard, and shows that passion both offensively and defensively. She plays with zero fear, and demonstrates that in how she dribble penetrates in the lane! Kimmy does a nice job finding the open spots, and connects from the free-throw line. Petty runs the offense with confidence. Defensively, her hands are active, and finds ways to deflect passes.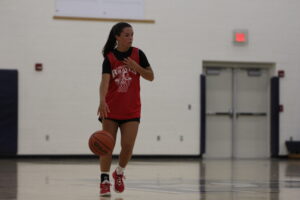 Gillian Savage- G, 2027, Logan Elm: When I spoke with the Head Coach to ask what year Gillian was, I was shocked! I'll say this, Logan Elm is going to enjoy having this young lady in the program! She plays with composure, has quick feet, defensively reads passes well, and I love her decisions on transition. Her pretty finger roll caught my attention! Remember her name!
Maren McCallister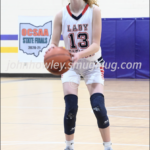 Maren McCallister 5'11" | CG New Hope Christian | 2023 State OH – G, 5'11, 2023, New Hope Christian: Concordia University is going to love having McCallister in their uniform next season! Wow, this young lady can play the game, and dominate!  She's athletic, I love her length, and how she maneuvers her body offensively with the ball. Beautiful moves to the basket, and comfortable shooting from outside. Under control spin moves in the lane are so fun to watch, and difficult for opponents to stop! She's highly involved in plays on both ends of the court. (Featured Photo, with ball)
Emerson Parsons- G, 2025, Worthington Kilbourne: (Below, with ball) Worthington Kilbourne has had some outstanding guards come through their program, and I think Emerson will continue the tradition and do some damage on the court this coming season! I love her quickness, how she gets after it defensively, runs the offense, and her movement without the ball and cutting is strong. She does the little things that create points!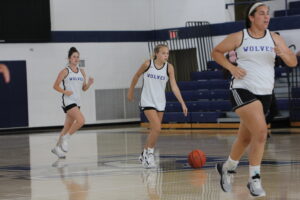 Bella White- G, 2025, Worthington Kilbourne: When I watch players, I pay attention to details. What I love about Bella is how she communicates on the floor- she can be heard, and she talks throughout the game! Defensively, she is strong with boxing out- her girl wasn't going to rebound!