Milee Smith- 5'10, G, 2026, Unioto: College coaches, you may want to jot this name down now, because this young lady can play, and score!  She's going to have an immediate impact for Unioto. Smith doesn't get rattled, plays with confidence, and has natural leadership skills. Without question, she can shoot anywhere- jumpshots, behind the arc, under control moves to the bucket. Great on transition, moves the ball quickly, and strong handles. (Featured Photo, with ball) 
Magnolia Holbert- 5'6, G, 2026, Unioto: (Below, with ball) If there was one word to describe Holbert's game, I would go with Aggressive! She is another incoming freshman who is going to have a fantastic 4 years with Unioto!  She plays defense with passion, and makes her opponents uncomfortable! Offensively, her spin moves to the basket are pretty!  She handles the ball with such care, and has no problem scoring, inside or outside.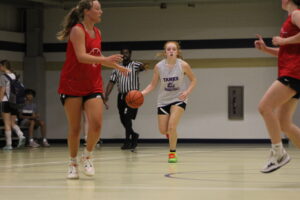 Keyairah Beard- 5'0, PG/SG, 2028, Unioto: (Below, on defense) I was beyond wowed watching Keyairah play, against high schoolers/ upperclassman/ many players who have 5 years on her. She more than held her own! Beard has a serious high basketball IQ, and court vision/ handles that many seniors wish they had. She is special! Oh, and let me add, she can shoot, play solid defense, and has wheels! Coaches, remember this name!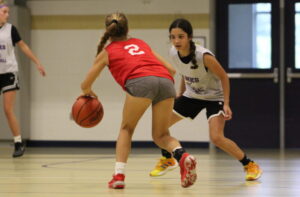 Amor Maker- 5'10, SG/G, 2024, Bishop Ready:  Really like Maker's game, particularly her defense! She's strong with tearing down rebounds, fighting for position inside, and she's got a strong arm with her outlet passes! Knows how to get to the line and connects. Amor is a solid wall in the paint with her arms up!  Consistent shooter from both inside and outside.
Hope Orders- G, 2023, Bishop Ready:  I like how she leads the team, in the confidence she has with every teammate. Love her crisp passes on transition that often result in points. No problem shooting from outside- when her feet are set and hands are ready, she's got a smooth stroke! She just goes to work!