Kenly Rogers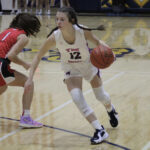 Kenly Rogers 5'7" | CG East Fairmont | 2024 State WV , 2023 Ohio Valley Dragons Red, PG/SG, 5-7 – This young lady is a multi-dimensional scorer capable of generating points all over the floor. She's also no stranger to carrying that assignment on her back if need be. She's got the range to draw a defender out to the 3-point line but can just as easily blow past that same defender for a drive to the hoop. She's comfortable scoring in transition and her strength allows her to pick up several and-1s after the harm. Coaches in the mix for a sneaky combo guard who draws double teams and frees up teammates should look at Rogers.
Hope Dever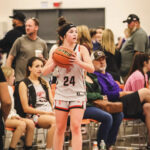 Hope Dever 5'4" | SG Lewis County | 2025 WV , 2025 OV Lady Dragons White, PG/SG, 5-5 – Dever plays a very competitive 3-and-D style attack. She's all over the place. One minute she's at the 3-point wing on the far side, before draining a 3-ball on the other side of the court. The next minute, she's on the defensive end of the floor, swiping the ball from an opponent and leading a fast break. Her hair would fly if she didn't keep it tied up. Her composure and eyes never cease moving, and she's always looking for another angle of attack. If you are a coach in the market for a hard-nosed, no-quit player then give Hope a look.
Mary Tokodi-Ruth, 2024 Thunder 740 24/25, SG, 5-8 – Tokodi-Ruth shows sublime court-awareness that shouldn't be too surprising considering her genes. Mother Elizabeth and aunts Sarah and Teresa went down as a trio of the best players ever to play at Parkersburg Catholic. Naturally, she sees the game just like they do. She's aware of the backdoor cuts, frontdoor cuts, screens, backscreens, switches, or in other words just about anything. Couple that with her shot and a flair for the big moment, and you have a recipe for success.
Emma Clary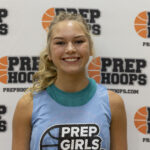 Emma Clary 5'10" | SF South Gallia | 2025 State OH , 2025 Ohio Valley Dragons Red, SG, 5-11 – How is your summer going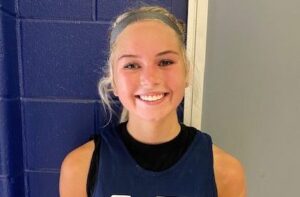 so far? Bet it isn't going anywhere close to as good as Clary's warm months – they got even better Tuesday. With coaches in attendance she put on a clinic,  showing off all her skills in a big win for the Dragons. During her assault, Clary became a blurr of motion. Shots, yup. Rebounds, sure. Everything she could have done to impress coaches, she did. Oh, and she looked smooth doing it, too.