Playing in front of college coaches can be nerve-wracking. Just the thought of being evaluated and hopefully recruited by someone at the next level often is enough to send someone into nervous fits. These girls didn't have much of a problem with that on Wednesday:
Kamryn Barnitz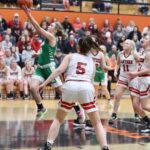 Kamryn Barnitz 5'7" | CG Fairland | 2025 State OH , 2025 Ohio Valley Dragons Red, CG, 5-7 – Three and D.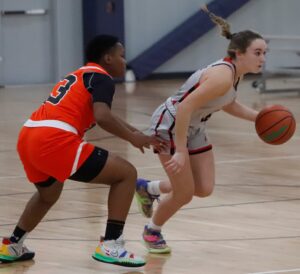 The player profile of someone who shoots from deep and plays great defense continues to rise in the basketball vernacular. Higher and higher. At this point, it may even be in the game for good. And the term describing a player blessed with the ability to go out all is helping those few capable performers in carving out roles all around the country.
Good news for Kamryn Barnitz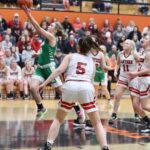 Kamryn Barnitz 5'7" | CG Fairland | 2025 State OH . Her skills match up with the description. And they were on display in a good way against a top team out of Alabama.
Defensively matched up against Alabama's No. 5 player and the highly intelligent Brooke Hallman, Barnitz didn't leave her open and didn't allow Hallman the opportunity to be a "pest," holding her to just 11 points. She caused trouble for Hallman by beating screens, appearing on the other end of switches, watching her every move, and basically being a "pest." On the other end, she drained five 3s from all around the arc in a masterful scoring performance. Her shot went up quickly, there was little effort in the follow-through, and she repeatedly "reached through" and finished her stroke. Overall, it was a perfect way performance.
Those two things aren't all Barnitz does, though. Stick around for my in-depth Sunday column on the Fairland and Ohio Valley product on both the West Virginia and Ohio sites.
Alexis Frazee, 2023 Thunder 740, SG, 5-11 – Frazee shows great basketball instincts at any point of attack. Thanks to her intuition, she's always one step ahead of the competition. Her long arms and legs make things that much harder on her opponents. They are already dealing with a very instinctual player, but once you add in her length and uncanny trust in her limbs to make plays, she becomes a giant problem.
Josie Stone, 2023 Ohio Valley Dragons Black, PF, 6-0 – Stone is a dependable power forward doing her job and doesn't ask any questions. She's accepting of her role and an invaluable team member. Not just because of her do-it-all approach, but because that kind of sacrifice rubs off. Giving up touches becomes contagious and everyone gets involved. That's not to say she can't get involved when it is her turn. She possesses a reliable short game that produces points around the rim. She moves well for her size and can cause some problems for like-size offensive players. I like her as a rebounder and scorer if she wants to play at the D-II level.
Hazley Matthews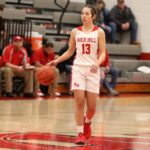 Hazley Matthews 5'9" | PG Rock Hill | 2023 OH , 2023 Ohio Valley Dragons Grey, G, 5-7 – Attack, Attack, Attack. Those three words should be Matthews' motto. Now and forever. There aren't many other words needed to describe her. Mostly because its all she does on the court. Yes, on offense or defense, she's bringing high energy and always coming at you. Give her a little space and she's driving by you. Ease up on your dribble, and she's all over you. It's a never-ending barrage there's no escaping from no matter how hard you are trying.
Kennedy Stewart, 2026 Ohio Valley Dragons Black, PG, 5-4 – When Stewart steps on the floor, she quickly becomes serious. There are no more breaks, smiles, tears, or words, just basketball. Yes, it's 30 or 48 minutes of sweat, blood, and shooting the basketball. Making things tougher on the first is that she's good at the first and third with the second rarely appearing.
Take her group's opener in Lousiville: Faced with an opponent capable of defending her teammates and herself, she turned up the fire. Not just one notch, but several. Shots went up faster, she drove in the lane quicker, and she showed a willingness to get her teammates involved. That may be the most underrated part of her game. Even at such a young age, there's already a comfort and a feel for getting others involved. Call it intuition if you will. Coaches should call it the reason they keep an eye on her for the next few years.