*Get 25 percent off you new subscription by entering Earl25 in the coupon code area. Enjoy Prep Girls Hoops Missouri.
Prep Girls Hoops Missouri takes a look at the top Class of 2024 shooting guards/wings from last week's Run 4 the Roses Classic, which was held in Louisville, KY.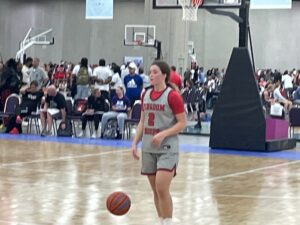 Grace Billington Grace Billington 5'8" | CG Moberly | 2024 State MO (Kingdom Hoops 2024): The 5'10 2024 guard is smooth in all facets of the game and she goes about her business in a laid-back manner. The game slows down for her very well and she can't be sped up. She has shooting range that extends beyond the 3-point line and she plays well without the ball with her movement. She also dropped some impressive dimes as a passer. She also had good defensive instincts on the back end of the full court press.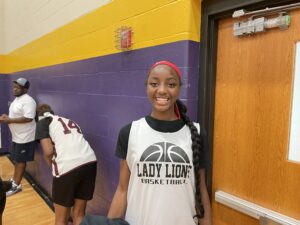 Hannah Wallace Hannah Wallace 6'0" | SF Cardinal Ritter | 2024 State MO (Napheesa Collier Elite 2023-Olufson): The 6'1 small forward from Cardinal Ritter played a significant role off the bench in helping her team to the championship of the Elite 40 Division. She was guarding multiple positions well with her length and athleticism. She was tracking point guards out top and blocking shots inside. She had a pair of big buckets in the championship game on a pull up mid range jumper and a high-arching 3-pointer.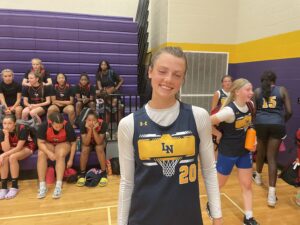 Kennedy Herrig Kennedy Herrig 5'10" | SF Liberty North | 2024 State MO (Della Lamb 3SSB 2024): The 5'10 guard from Liberty North impacts the game in a variety of ways with her length and versatility. She was hitting 3-pointers and getting buckets off her good movement and cutting. She facilitates offense with her passing skills and she gets putbacks off the offensive boards. She's an unselfish player who makes her teammates better.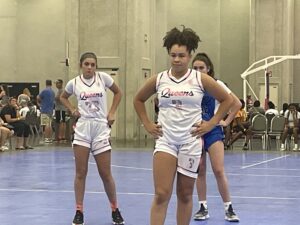 Kya Johnson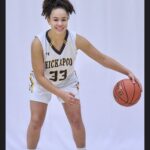 Kya Johnson 5'6" | CG Kickapoo | 2024 State MO (DC Queens 2024): The 5'7 wing is a powerhouse performer who plays a very physical game. With her strength, she can bully her way to the basket on power drives for buckets and three point plays. She is also a very good rebounder who will get out of her area.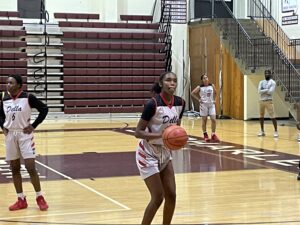 Azaliah Funchess (Della Lamb 3SSB 2024): The athletic 5'10" wing was very solid in helping her team to the championship game of the Gold Bracket in the Aqua Division. She was excellent in that game with 12 points. She was very aggressive with some slashing drives and good offensive rebounds. She plays very well in the open court and she added a step-back 3-pointer off the dribble.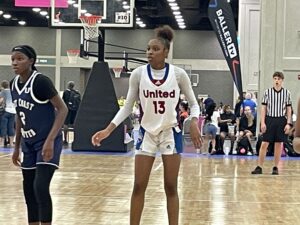 Mikayla Washington (Midwest United 3SSB 2024): A 5'9 guard from Cardinal Ritter who was very impressed with her athleticism and high energy at both ends of the court. She was very effective at slashing to the basket and she could hit the Corner 3. Her defensive intensity was very good as she created steals as well as a few chase down blocks.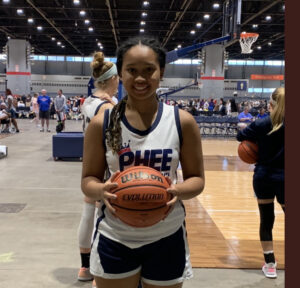 Jasmine Burks (Napheesa Collier Elite 2024-Humiston): The 5'8 guard from Clayton showcased an excellent shooting stroke from 3-point range. When she got a good look and a little space, she was knocking shots down. She is also a solid ball handler who can also move well without the ball.
Lily Mahy (Shock Hoops-Diaz 2024): A 5'8 guard from Nixa who has confident handles and is fearless on the drive. She pushes the ball well in transition and can hit the stop and pop jumper in transition. She also does the little things on offense such as the use of the jab step with the ball and the V-Cut to get herself open.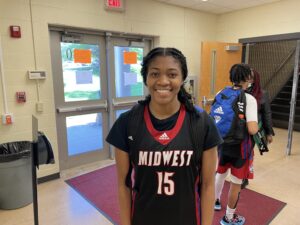 Monet Witherspoon (Midwest United 3SSB-2023): The 5'7″ guard from John Burroughs played up with the 2023s during the week and helped MWU to a Platinum bracket championship in their division. She is a talented player with a high basketball IQ and a good decision maker on the court. She is a capable scorer on the drive and from 3-point range, but she is also an unselfish player who will make the extra pass. She stays in the right spots on defense and knows when to rotate over to get a steal when she has to.
Riley Blevins Riley Blevins 5'7" | CG Mexico | 2024 State MO (Kingdom Hoops 2024): A 5'9 guard from North Callaway who did a nice job on the defensive end. She has good length and had the ability to rotate into the right position. She is also a good perimeter shooter who was hitting the transition 3-pointer.
Kinley Norris (Napheesa Collier Elite 2023-Stricker): A 5'8″ guard from Park Hills Central who provided some excellent perimeter shooting when she entered the game. She has a pure shooting stroke with nice form to the point where even the misses looked good. She has a good feel for the game and she always seems to play within herself without forcing things.
Jacy Bray (Shock Hoops-Diaz 2024): A 5'8 guard from Nixa who is a pinpoint passer. Her passes are sharp and with a lot of zip, so you had better have your hands up and ready to catch the ball. The lefty has a nice pull up jumper and she can hit a 3-pointer. She plays the middle of her team's zone defense where she battles hard inside for low post position and for rebounds against taller players.