*Get 25 percent off you new subscription by entering Earl25 in the coupon code area. Enjoy Prep Girls Hoops Missouri.
Prep Girls Hoops Missouri takes a look at the top Missouri Class of 2025 forwards from last weekend's Run 4 the Roses Classic in Louisville, KY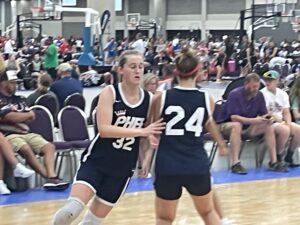 Addie Kane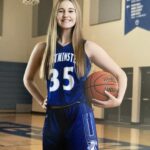 Addie Kane 5'11" | SF Westminster Christian Academy | 2025 State MO (Napheesa Collier Elite 2025-Yorg): A 5'11″ small forward from Westminster Christian who has good athleticism and a high motor that never stops. She did a good job of getting into the lane and she could flip up shots at different angles that usually went in the basket while keeping defenders off balance. She also used her height to post up smaller defenders to score inside. She was excellent at the top of her team's full court press with her length and constant energy to get deflections.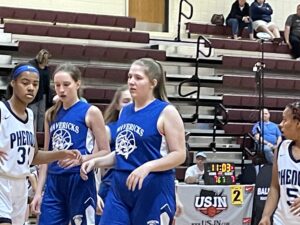 Samantha Colvin (Mavericks Blue 2025): The 6'0″ forward from Lindbergh was one of the most impressive passers that I watched during the three days that I was in Louisville. Whether she was set up on the high post or in the low post facing a double team, she would zip passes to open cutters from a variety of angles. It was fun to watch her dish the rock. She is also a very skilled offensive player in the low post. She establishes good position with her size and she's a very capable scorer with either hand around the basket.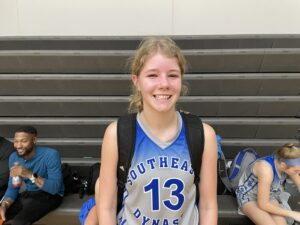 Reagan Howe Reagan Howe 6'0" | PF Oak Ridge | 2025 State MO (Southeast Dynasty 2025-Osborne): The 6'0″ forward from Oak Ridge who was very aggressive and tough around the basket, especially when she's able to get to her dominant left hand. When she catches the ball at the high post, she gets to the basket strong with the power dribble to get a bucket off the glass and she has a nice drop step move in the low post.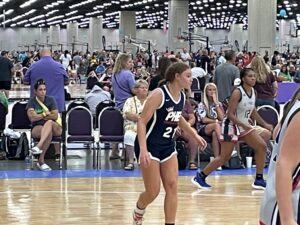 Ava Hughes (Napheesa Collier Elite 2025-Yorg): A 5'9″ forward from Hermann who loves to attack the basket and put constant pressure on the defense. The young lefty went into the lane seeking the contact and she was able to finish well or get herself to the free throw line. She also did a good job of making her free throws.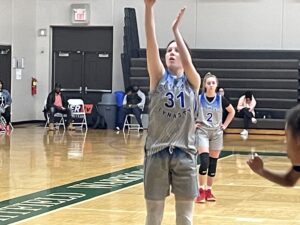 Lilyan Landis (Southeast Dynasty 2025-Osborne): A 6'2″ forward from Oak Ridge who had a nice defensive presence inside with her height and length. She could block and alter shots in the lane. She could score in the lane and she also has a good shooting touch out to the 10-12 feet area. She even had a couple of nice drives from the elbow area.
Sophia Otten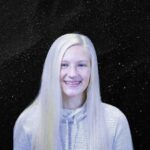 Sophia Otten 6'2" | C Incarnate Word Academy | 2025 MO (Napheesa Collier Elite 2024-Humiston): A 6'2 post player who did a nice job playing up a level. She does the fundamental things well inside by catching the ball, keeping it high and finishing with both hands. She can also wheel and deal in the lane to get a bucket with her footwork.
(The Prep Girls Hoops Missouri Top 250 Expo will be held on September 24 in St. Louis. Make sure to register now. When you do, enter austinExpo2022 in the coupon code area to get a discount on your registration).