*Get 25 percent off your new subscription by entering Earl25 in the coupon code area. Enjoy Prep Girls Hoops Missouri.
*The Prep Girls Hoops Missouri Top 250 Expo will be held on September 24 in St. Louis. When you register, enter austinExpo2022 in the coupon code area to get a discount on your registration.
Prep Girls Hoops Missouri takes a look at some of the top Missouri point/combo guards from last week's action at the Run 4 the Roses Classic, which was held in Louisville, KY.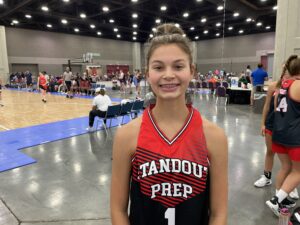 Kerrigan Guerin Kerrigan Guerin PG Chadwick | 2025 State MO (Standout Prep 2023): A talented 5'8″ point guard from Chadwick who did an excellent job during the week while playing two levels up with a 17U team. She's a skilled playmaker with very good poise and a very nice feel for the game. She made pinpoint passes to cutting teammates for layups and open shooters for 3-pointers. She did an excellent job of attacking the basket and touching the paint. She got into the middle area to make runners and floaters while also being able to knock down perimeter jumpers.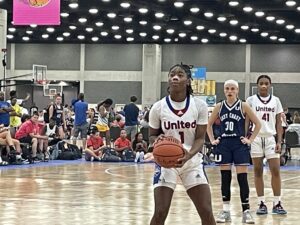 Jayla Hawkins (Midwest United 3SSB 2024): A 5'7″ guard from Webster Groves who has good quickness and athleticism to really excel on the defensive end. She could sit down and apply good on-ball pressure for the full court. She did an excellent job of penetrating in the lane and putting pressure on opposing defenses. She delivered some nice passes while on the moves and she scored on some slicing drives to the basket.

Paige Sheppard (Midwest United 3SSB 2024): A 5'6″ point guard from Cardinal Ritter who is a very good playmaker and floor general. She is a vocal leader who did a good job of keeping the team organized and getting into their offense. She has good quickness, but she moves at her own tempo and does not get sped up too often. She is also an excellent defensive player who was very disruptive with her quick hands, which she used to pick a lot of pockets to start the transition game.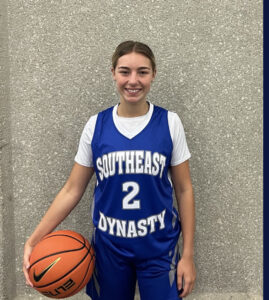 Lilly Cole (Southeast Dynasty 2025-Osborne): A 5'9″ combo guard from Jackson who was in full attack mode as she consistently got downhill. And she could get it down whether she was going left or right. She was going at the same rate of speed to get to the basket. She was also knocking down Corner 3-pointers.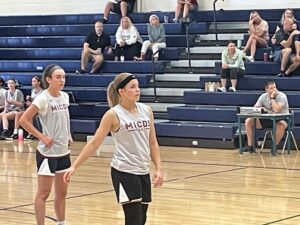 CeCe Harris (Napheesa Collier Elite 2025-Yorg): A 5'5″ point guard from MICDS who is a solid ball handler and passer. She looks to distribute the ball first and she does a good job of getting the ball into the hands of her open teammates. She is a feisty defensive player who was not afraid to get into the lane and mix it up physically inside. She was able to tie up opposing ball handlers and cause held ball situations and also dig in and strip opposing post players in the paint.
Addy Ruffin (Shock-Diaz 2025): A 5'8″ combo guard from Nixa with good athleticism and the willingness to attack the basket whenever she had the opportunity. She was able to score well with both hands when she got into the lane. She was also very good off the ball with her cutting and setting up defenders, which led to some easy baskets. Her court vision was also very good as she delivered some nice pinpoint passes while on the move. She is also a solid defender who can be disruptive with her athleticism.