*Get 25 percent off your new subscription by entering Earl25 in the coupon code area. Enjoy Prep Girls Hoops Missouri.
*The Prep Girls Hoops Missouri Top 250 Expo will be held on September 24 in St. Louis. Be sure to register. When you do, type in austinExpo22 in the coupon code area to get a discount on your registration.
Prep Girls Hoops Missouri takes a look at some of the top Missouri performers from Wednesday's second day of competition at the Run 4 the Roses Classic in Louisville, KY.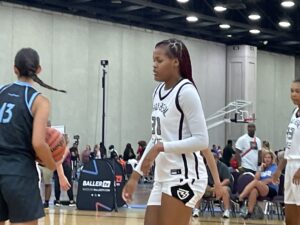 Ai'Naya Williams (Lady Brad Beal Elite 2023): The 6'2″ 2024 forward from Cardinal Ritter was really controlling things on both ends of the floor with her size and mobility. She was gobbling up offensive rebounds and scoring on putbacks. She moves very well in the post and scored on a variety of moves. She also scored on some impressive rim-runs as she loves to get out and go in the transition game. She is also a versatile defender who can guard post players inside, but also jump out and defend a guard on the perimeter on a switch.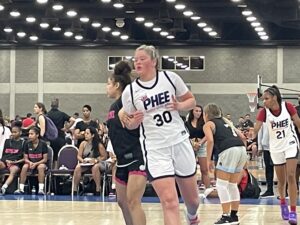 Brooke Coffey Brooke Coffey 6'0" | SF Incarnate Word Academy | 2023 State MO (Napheesa Collier Elite-Olufson 2023): The 6'1″ 2023 wing showcased her excellent overall skill set, which accompanies her height and physical strength. She was dropping dimes from several spots on the court, from the high post to the outlet pass to start the fast break. She has excellent court vision and a high basketball IQ. She is very good at reading defenses and moving without the ball to get easy baskets. Her perimeter game was strong as she can also knock down the 3-pointer and handle the ball.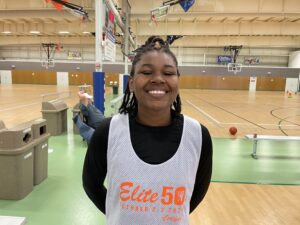 Summer Yancy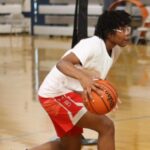 Summer Yancy 5'11" | SF Raytown | 2024 State MO (Della Lamb 3SSB 2023): The 6'0″ 2024 forward from Raytown was in attack mode from the start on her early-morning game. She's physically strong and versatile with her ability to handle the ball and facilitate like a point forward. She is a strong rebounder who also competes in the defensive end. She plays with a lot of energy and maximum effort, which leads to a lot of productivity.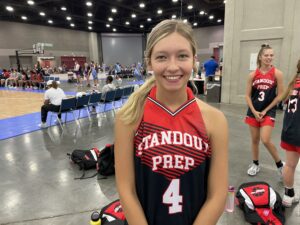 Lauren Jones Lauren Jones 5'7" Mansfield | 2023 MO (Standout Prep 2023): The 5'9″ 2023 guard from Mansfield who played very well in the game I watched during the afternoon session. She is a solid lefty who is aggressive and can get downhill on the drive. She also displayed a nice shooting stroke from 3-point range. She also has good instincts and she anticipates well on the defensive end.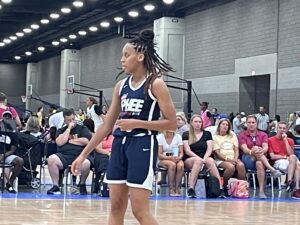 Peyton Hill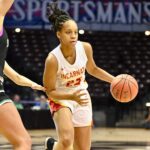 Peyton Hill 5'10" | PG Incarnate Word Academy | 2025 State MO (Napheesa Collier Elite-Stricker 2023): The 5'10″ 2025 guard from Incarnate Word Academy was playing two years up and she showed very well. She has good athleticism and strength and she uses both well as a slashing threat into the lane. She attacked the basket and scored well in traffic. She sits down and defends well and she can also defend in the low post with determination. She also knocked down multiple 3-pointers in the game I watch during the afternoon.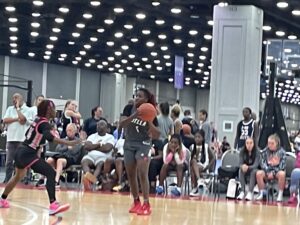 Ramyiah Logan Ramyiah Logan 5'7" | PG Lincoln Prep | 2023 State MO (Della Lamb 3SSB 2023): The 5'7″ 2023 point guard was very impressive in her team's late afternoon game. The physically strong lefty provided some timely scoring and vocal on-court leadership during a hard-fought contest. She was getting to the basket and scoring on some tough takes into the lane. She was getting into opposing ball handlers on defense and she used her quick hands to execute some strips to cause turnovers.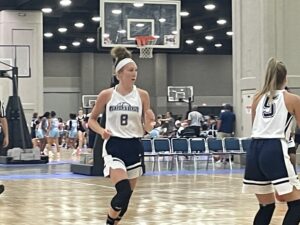 Abigail Peterson (Players First 2023): A 5'11″ 2023 wing who does a lot of different things to help her team succeed. She doesn't play point guard, but she does plenty of ball handling and facilitating and she's comfortable with it. She operates well in the high post as she could deliver the nice pass, hit the elbow jumper and get to the basket off the dribble. She has a nice shooting touch from the mid-range and she can also hit the Corner 3-pointer.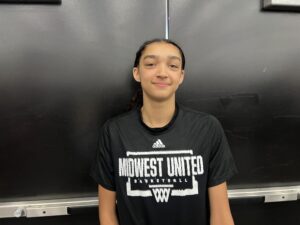 Sydney Bradley (Midwest United 3SSB 2023): The 5'9″ 2023 guard from Westminster Christian was very impressive with her high energy and constant movement. In the game I watched, she hit a pair of 3-pointers where she ran from one side of the lane to the other off a screen. After her full sprint, she caught the ball shot-ready and drained the triple with ease. She is very active on defense with her length as she got several deflections. She also snuck in at got a couple of offensive rebounds for putbacks.