The list continues of player that made an impact at She Puts in Work Skills Camp in Tulsa, OK. These players I will keep in eye on in the next several months going into the school season.
#37 | Alex McGarrah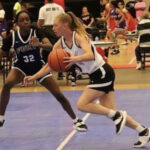 Alex McGarrah 5'8" | CG Owasso | 2024 State OK | 5-7 / G | Owasso HS | Shock 2024 Diaz
Alex is an athletic player that slashes her way through traffic and pushes the ball in the open floor. Her quick first-step makes her a threat off the dribble because she finishes before the help-side rotation can get to her. She can make the open shot and is a willing passer. Continuing to develop her ball handling will help her handle pressure against other quick, athletic guards. And improving her consistency from deep will increase her production on the court and certainly will help gain attention from coaches at the next level.
#2 | Gentry Baldwin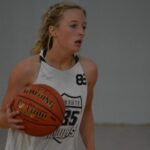 Gentry Baldwin 5'5" | PG Bixby | 2023 State OK | 5-5 / G | Bixby HS | Team Griffin Elite 2023
Gentry is an undersized guard that plays with a chip on her shoulder. She has quick feet and does a good job shutting down her opponent on defense. Her quick feet translate well with the ball in hand, exploding by defenders with ease as soon as they relax their feet. She is a threat behind the 3-point line and can create space in the mid-range when needed. A high-IQ player that leads like a general, making sure her teammates get quality looks before she gets hers. Getting comfortable finishing with contact from different angles around the rim will make her game complete.
#64 | Kennedi Wight | 5-10 / F | Mulgrow HS | Banshees 2023 Asbury | 2024
Kennedi is a player with good size and shoots the ball at a high-level. In the 5-on-5 game sessions on day 2 she displayed her shooting ability hitting multiple wide-open shots. With her size, I would like to see her use her body to gain the advantage she has in the paint. Improving her lateral quickness and developing her ball handling skills will open up more ways to score and create space for her shot.
#8 | Kiara Morris | 5-4 / G | Enid HS | Ok Lady Soldiers 2024
Kiara is a High IQ player, though severely undersized. She pushes the ball in transition and is a lot faster than she looks. She is a good passer that finds teammates when open. She has a smooth mid-range shot and occasionally can get hot from downtown. She is dedicated to work on defense and can be a stopper if she wanted. I would like to see her be more assertive on the court, using her voice to direct teammates and being more active on defense. Continuing to develop her shot mechanics and handles will increase her confidence and assertiveness.
#88 | Olivia Watkins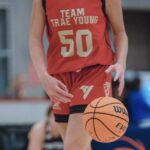 Olivia Watkins 6'1" | SG Norman | 2025 State OK | 6-0 / F | Norman HS | Team Trae Young 3SSB 16U
Olivia is a long player that stretches the floor with her shooting ability. On day 2 she won the "Sharp Shooter" Competition out of 45 athletes and also hit a couple 3-pointers in the game sessions. She is a work horse on the glass and uses her length to grab rebounds and also get blocks and deflections. She sees the floor and finds the open teammate. Improving her strength could help display a strong presence in the paint. Becoming a threat inside could raise her stock from coaches at the next level. Using her length at the post will only help her game and display the talented player she is.