Over the Fourth of July weekend, I was in Tulsa, OK for the First Annual She Puts in Work Skills Camp. The fun began on Friday the 1st of July and continued on Saturday July 2nd. On day 1 the camp consist of skills and drills and day 2 consist of game sessions. Below are players that made an impact on the court and got my attention:
#68 | Kyiah Prestridge | 6-0 / Guard | Westmoore HS | Team Trae Young 3SSB 16U | 2026
Kyiah is an impact player that can do it all! She has a high-IQ on the court, plays with good pace and is rarely out of control. She has a strong frame and uses her body when attacking the basket and working in the paint. She has a smooth-looking shot and can hit it in spot-up situation and with a defender in proximity. She plays with passion and competes at a high-level. Improving her lateral quickness defensively and ball-handling will only raise her game to another level, and solidify her as a top prospect in the nation in the class of 2026. Kyiah was awarded The Most Valuable Player of the camp!
#5 | Ava Casper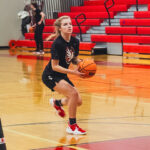 Ava Casper 5'6" | SG Bixby | 2025 OK | 5-6 / G | Bixby HS | Team Griffin Elite 2025
Ava is an underrated player that puts a lot of time working on her craft. She is savvy with the basketball in her hands and can create lanes to the basket. She is a willing passer that finds open teammates. She has good shot making ability and once she is on a roll it's hard to stop the ball from going into the rim. She shot well at our Skills Camp in Tulsa. Improving her finishing at the rim with contact could help her confidence when shots aren't falling.
#1 | Callie Wilson Callie Wilson 5'7" | CG Sperry | 2025 State OK | 5-4 / PG | Sperry HS | Tulsa Lady Hawks 2025
Callie really impressed me at camp! She has an explosive first step and is unafraid to drive the lane despite her size. Her handles are pretty smooth and her change of direction is good as well. She is a good three-point shooter and can get hot quick. Defensively, she is a worker and doesn't give up on plays. Improving her lateral quickness could help her stay in front of the ball. Also, strengthening her body all-around could give her more of an advantage when attacking and might help with her finishing.
#7 | Hayden McDowell | 5-6 / G | Collinsville HS | Tulsa Lady Hawks 2026
Hayden is a player that has been working on her game and is continuing to grow. She showed a lot of ability in the one-on-one drills at camp with her quick first step and finishing with contact at the rim. She has a sweet shot that goes in. Defensively, she uses her length to disrupt opponents and gets deflections. Continuing to strengthen her body will give her more leverage on the court, attacking and finishing in the paint against bigger players. Keeping a wide-base when shooting could increase her efficiency and build her confidence when playing.
#3 | River Cogburn | 5-4 / PG | Leflore HS | OK Swift 2025
River is a player that works and plays the game the right way. At the point guard position, she has good vision and finds her teammates when they are open. She can shoot the ball and has a quick step off the dribble. She is calm under pressure and executes. Developing isolation moves off the dribble could help her create space for a shot or an easy drive to the lane.