Over the 4th of July weekend I had the privilege of being invited to the She Puts In Work camp in Broken Arrow, OK. This camp included combine testing, skill stations, three-point shootout, 1 on 1 tournament, and some serious 5 on 5 competition. This article will discuss some players that really stood out to me.
Kayla Hill | Guard | 5'7 | Putnam City HS (Supreme Trotters) | 2025
Kayla is a player that will quickly grab your attention because of her effort and energy. A hard working player that is going to play hard on both ends of the floor. A good on ball defender with athleticism that makes the offense have to work for everything they get. She excel in the open court with her speed and ability to get to the rim and finish. A slasher in the half-court that loves to attack off the dribble.
Kaylie Carr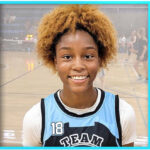 Kaylie Carr 5'7" | PG W T White | 2025 TX | Point Guard | 5'7 | WT White HS (Team Stay Ready 2024) | 2025
Kaylie is a dynamic guard that puts pressure on the defense with her aggressive nature. She loves to attack off the bounce and with her ball handling ability, getting into the lane is typically not a problem. She's a shifty player that can combine change of direction with change of speed to get where she wants to go. Kaylie is athletic enough to blow by her defender at times and get to her spots for the finish at the rim, short jumper, or kick out to her teammate. She also uses her athleticism well on the defensive end to keep her opponent out of the lane.
Mataya Hall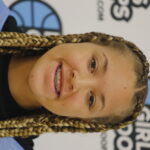 Mataya Hall 5'8" | CG Sapulpa | 2025 State OK | Combo Guard | 5'8 | Sapulpa HS (OK Swift 2024) | 2025
When you are looking for a player that has good leadership skills then Mataya will fit that description. From the moment the camp started she took that role and it fit her perfectly. She encouraged teammates, kept her group organized, and communicated well with everyone. Mataya is sneaky good. You'll look up and she'll have a steal with a fast break finish. Then she'll break down the defense for an easy pass to a teammate for an open shot. Then she'll come back and hit a mid-range jumper or a spot up three-pointer. She's not flashy, just a hooper with a nice skill set and a good game.
Mia Adams | Combo Guard | 5'7 | Union HS (Tulsa Hawks 2025) | 2025
Mia was one of the best athletes in the camp. She's fast, has a quick first step, can jump really well, and when you combine that with her skill set and abilities you have a problem. Her game is so athletic right now that she can out run and out jump most players in her position. A good 1 on 1 player that can break down the defense and get into the lane. She has a quick pull-jumper, can make the thee-ball, and is a tough player to contain in the open court.
Lilly Thomas Lilly Thomas 6'1" | PF Calumet | 2025 State OK | Post | 6'2 | Calumet HS (OK Fusion 2025) | 2025
Lilly is a post player that possess a nice interior skill set and shoots the ball well enough from the perimeter to bring the opposing post player away from the basket. She plays at a good pace and never seems to rush when being pressured or when she catches the ball on the block. Lilly has good footwork on the low block and can finish with a drop step or an up and under. She can also step out and knock down the mid-range jumper or the three-pointer.