Here are more players that impressed me during the She Puts In Work camp in Broken Arrow, OK. To read part 1 of this article be sure to click HERE.
Kinley Lewis | 5'11 | Forward/Wing | Denison HS (Lady Jets 2024) | 2026
There are certain players you see and you just know they have the potential to be special. Kinley is a player that is still developing and learning the game but she is on the right path to really be a problem in high school. Standing around 5'11 this raw talented player has a 73 inch wingspan, 29.5 inch standing vertical, and a 33 inch running vertical. She's quick off her feet, has a nose for rebounding and has a good understanding of how to shoot the ball. Kinley also has a good defensive presence that gives her the ability to block or alter shots in the lane.
Jakayla Swanson | 5'7 | Guard/Wing | Muskogee HS (OK Power 2023) | 2023
Miss Game Performer! This is the nick name another scout came up with to describe Jakayla. During day 2 of the camp Jakayla performed well in the 5 on 5. She showed her competitive nature and how she can impact a game. Jakayla did well on the defensive side of the ball. A good athlete with quick hands and quick feet allowed her to keep the offense from living in the lane on penetration. Offensively when she attacked off the bounce she knew how to use her body, finish at the rim in the half-court, and had good footwork.
Bailey Wiggins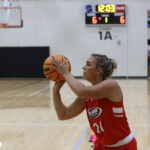 Bailey Wiggins 5'10" | SF Locust Grove | 2023 State OK | 5'9 | Guard | Locust Grove HS (OK Fusion 2023) | 2023
Bailey is an athlete that has good length and a good understanding of the game. She plays under control, she's unselfish, gives good effort on both ends of the floor. She did a really good job defensively. She's a disruptor to the offense with her defensive ability. She harassed the ball handler, played the passing lanes, and forced the offense to take tough shots. Offensively, she could finish at the rim in traffic and knock down the three-pointer.
McKenzie Mathurin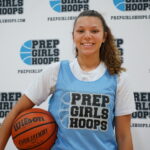 McKenzie Mathurin 5'10" | CG Broken Arrow | 2025 State OK | 5'10 | Combo Guard | Broken Arrow HS (OK Swift 2024) | 2025
If you follow girls high school basketball in Oklahoma then you probably know the name McKenzie Mathurin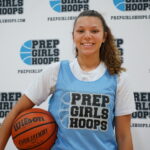 McKenzie Mathurin 5'10" | CG Broken Arrow | 2025 State OK . This was my first time getting the opportunity to really evaluate her game and see what skills she possess. McKenzie probably had the best skill set in the gym. There were a number of things she could do offensively. She had a good enough handle to get to her spots on the floor, she had a nice mid-range pull-up jumper, could finish through contact, get others involved and make the three-pointer. Defensively she was solid also. She does a good job with on ball defense and doesn't mind being physical without fouling.
Yonae Edwards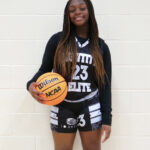 Yonae Edwards 5'9" | C Broken Arrow | 2025 OK | 5'9 | Broken Arrow HS (ID3NTiTY Elite) | 2026
Yonae is a player that is going to go hard at you so you have to bring your hard hat. She's not afraid of being physical on the defensive end and will make you work for everything you get. Offensively you have to keep a body on her when the shot goes up. She also handles the ball well enough to get to the rim for the finish or create for the pull-up jumper.