I kicked off the July Live Period by traveling to Spooky Nook for Select Events East Coast Summer Showcase. The goal of this trip was to not only watch familiar prospects I have seen over the year, but also to discover some hidden gems that emerged on my radar. Below are some new faces and old ones who stood out to me the last few days. 
Kiyomi McMiller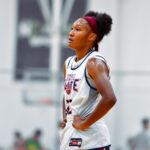 Kiyomi McMiller 5'8" | PG Trinity Collegiate School | 2024 NY | NEPA Elite| 5'8''|PG|'24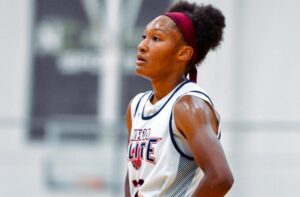 During warmups, McMiller is fun to watch, never mind when the game starts where she effortlessly shreds every defender on the court. Her ball handling is elite, and I haven't seen anyone keep the ball on a string the way McMiller does. She has an answer to anything the defense throws at her. When teams go zone and pack in the paint, McMiller can score from the perimeter. If you dare to apply ball pressure, she will blow by you and show her advanced in-between game and finishing ability. McMiller is a fierce competitor who can control the game and take over on both sides of the ball whenever she wants. 
Ella Wilson Ella Wilson 5'11" | SG Lake Lehman | 2025 NY | NEPA Elite| 5'11''|SG|'25
I liked Wilson's versatility in the halfcourt. She is capable of playing inside and out and has great chemistry with Kiyomi McMiller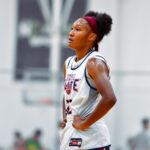 Kiyomi McMiller 5'8" | PG Trinity Collegiate School | 2024 NY . Wilson was the beneficiary of a few McMiller dimes and finished strong and played through contact. She also relocated well on the perimeter and was cognizant of being in the line of vision for whoever penetrated the lane and buried jumpers off the catch. 
Jenna Saidman Jenna Saidman 5'3" | PG Immaculate | 2024 | CT Premier| 5'3''|PG|'24
Saidman was impressive at this event because she showed the ability to get her shots off clean against good defense. She wasn't intimidated by bigger defenders and showed the quickness and ball-handling to get by them on the perimeter. Saidman is an efficient shooter and a crafty lefty who can consistently get to the rim and finish. I also liked that Saidman found the open shooter when drawing the defense or dumped an accurate pass down until the big wheel help arrived. 
Arianna Seitz Arianna Seitz 5'11" | SG Eastern York | 2024 NY | Lady Raiders| 5'11''|SG|'24
Seitz's size, length, and defensive instincts jumped out at me initially when watching her the other day. She got her hands on what seemed to be every pass when the Raiders pressed, and she was highly aggressive in passing lanes. Seitz is a versatile wing who gives your team a little bit of everything. She is a player who can impact the game without touching the ball, i.e., rim-running in transition. Seitz also finished through contact and did a good job drawing fouls. 
Praise Matthews Praise Matthews 6'1" | PF Dallastown Area High | 2025 NY | Lady Raiders| 6'1''|PF|'25
I like Matthews' upside, and I think she projects the highest out of anyone on the Lady Raiders '24 team. You cannot teach her size and athleticism, and Matthews has the versatility to defend multiple positions. In the open court, she is a major threat, especially when coming at the defense full speed. Matthews is comfortable finishing with either hand and is smooth when getting to the rack. 
Ciarra Gibbs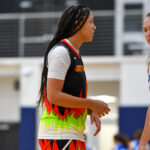 Ciarra Gibbs 6'0" | PF William Penn High | 2024 NY |Lady Raiders| 6'0''|PF|'24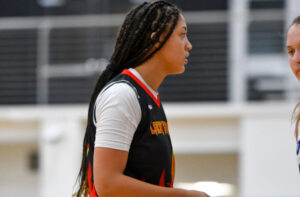 Gibbs used her physical gifts well and was a force inside and on the break in the game I saw. She runs the floor hard and constantly beats the defense down the court. Gibbs is disciplined and will fight for position on the block and use her strength to overpower defenders. I also liked how, when securing a rebound, Gibbs would start the break by pushing the ball up the floor.
Paige O'Brien Paige O'Brien 5'9" | SG York Catholic York, PA | 2024 NY |Lady Raiders|5'9''|SG|'24
The toughness of O'Brien and her impact off the ball were two things that stood out. She cut aggressively, and by doing so, it opened up her teammates. She also rebounded the ball well and was ripping them down in traffic. O'Brien snuck in for several offensive boards, and instead of forcing a shot every time, she would successfully kick the ball out so the team could reset the offense. O'Brien is a reliable mid-range jump shooter who knocked down a few off the catch and dribbles. 
Maya Tucker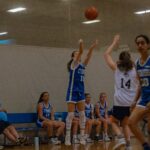 Maya Tucker 5'4" | CG Cheshire | 2023 |CT Starters|5'4''|PG|'23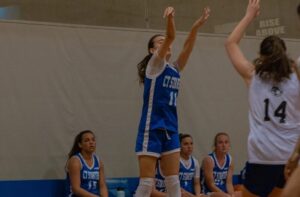 Tucker had an excellent shooting performance on day one and showed confidence shooting off the catch and move. I also liked Tucker's aggressiveness on defense. She dug in possession after possession and made the opposing guards work hard to get to spots. Tucker is not the biggest guard but has the foot speed and toughness to be a valuable defender. 
Gabby Gaetano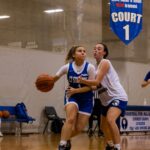 Gabby Gaetano 5'3" | CG East Haven | 2023 State | CT Starters|5'1''|PG|'23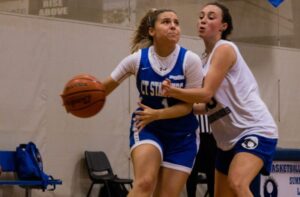 Gaetano is another small CT Starters guard but one you can not leave open at all. She hit a couple of impressive threes during the event that were well behind the three-point line. I liked how Gaetano absorbs contact when pursuing the basket. She used her body well and had some impressive finishes on bigger forwards.
Alexis Lease-Springer Alexis Lease-Springer 5'8" | SG South Brunswick | 2025 State NJ |Team Elevation|5'6''|PG|'25
Lease-Springer came out the gates on a mission and took control of the primary playmaker and scorer from the jump. She hit a few contested jump shots that ripped the net clean. Lease-Springer is a strongly built point guard who uses her strength inside to be a factor on the glass. I also thought she was the hardest-working player in the game I saw. She competed at a high level, resulting in her being the most impactful player on the court.