Select Events put together another quality summer event with their East Coast Summer Showcase during the early July live period at the Spooky Nook Sports Complex in Manheim, Pennsylvania.  Here is a look at some 2027 prospects with bright futures from the Maryland Belles- PA Lady Reds game I caught.
Jada Russell, Maryland Belles, 2027 Guard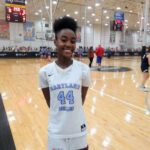 A big guard with size and versatility, Jada plays at a deliberate and patient pace, choosing her spots to slash and explode to the hoop. She has elite length and when she fills out should be able to play three positions. With her length, quick hands and defensive footwork she could become a lockdown defender in high school. Her shot looks good out to the three- point line and she is an effective finisher in paint, using floaters and pull ups when necessary.
Naomi Koldobskiy, Maryland Belles, 2027 Guard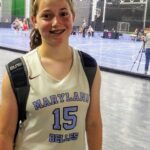 Naomi is a speedy guard that has the green light to launch three pointers in transition and out of the half court sets they run. She puts pressure on the defense because she can get into the paint and finish at the rim and can also dish off to open teammates. Very active defender and she can play on and off the ball on offense.
Calia Carter, Maryland Belles, 2027 Guard-Wing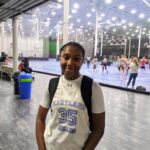 Versatile wing/guard who provides the glue that successful teams need. She scrapped for loose balls and rebounds and provided interior defense. Moved without the ball which allowed her to pick up some easy baskets. Willing to set screens and provided some secondary ball handling as well.
Deanna Pugh, PA Lady Reds, 2027 Guard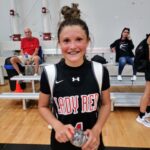 Speedy scoring guard with a high motor and an explosive first step. Solid ball handler and passer and she moves well without the ball. She knocked down several three pointers and scored in the paint with both hands. Very dangerous in transition as she has good vision and can shoot from everywhere. Very fun player to watch.
Ella Binidas, PA Lady Reds, 2027 Guard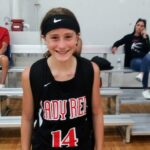 She's small but she can ball. She can handle the ball and score in a variety of ways, including long three pointers and runners and floaters. She is tough and looks like she is in the gym all the time.