The end of the junior season and the summer before the senior season is often a time where the games of players take off.  A great number of factors influence change just as there are factors that cause the games of other players to plateau or to just not grow as quickly as others.  What follows is a look at the top 6 major movers in the recent 2023s rankings update.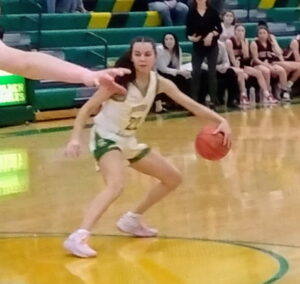 Landon Forbes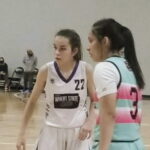 Landon Forbes 5'1" | PG Bishop Carroll | 2023 State KS , 5'6″, PG, Bishop Carroll, SSA Gameball Basketball 17U – Forbes blasted 111 spots to #23. After earning honorable mention honors as a sophomore Forbes followed that up with being selected to the Greater Wichita League first team in 2022.  She was a major component of the Golden Eagles 19-4 season.  A speedy, hustling point who creates off the bounce well Forbes' floor leadership and overall game have exploded over the summer.  Forbes' quickness will be very difficult to defend as will her ability to create shots for others and score at all three levels well.

Kate Harter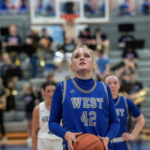 Kate Harter 6'1" | C Olathe West | 2023 State KS , 6'1″, C, Olathe West, KC Eclipse 17U Bluestar –  84 spots to #29.  While Harter did not earn all-Sunflower League honors it will be difficult to keep her off the board in 2023.  She possesses size, length, transition speed, and quickness to form the building blocks of what she brings to the table.  Add that she fluidly finishes through contact and has versatile face-up and back-to-basket games, Harter is a post prospect that deserves attention.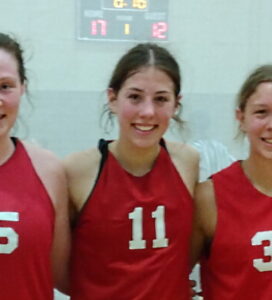 Lillie Veer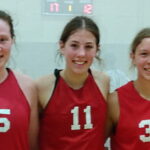 Lillie Veer 5'6" | PG Berean Academy | 2023 State KS , 5'7″, PG, Berean Academy, KS Dream Team – A vault up the rankings was overdue for Veer, moving up 75 spots to #63.  Before watching her lead her experienced fellow Warriors in burying Remington to advance to the state 2A championship quarterfinals it had been more than a year since I was able to get a extended look at her.  Besides toughness, quickness, and floor leadership Veer has solid vision and good strength to push the ball up the floor.  She runs breaks well, finishes with athleticism, and is a solid threat to knock down the mid-range and three point shot.  Those abilities continue to stand out this summer as she plays with her club team.
Nyla Hale Nyla Hale 5'9" | CG Blue Valley North | 2023 State KS , 5'9″, SG, Blue Valley North – Hale, a Eastern Kansas League honorable mention selection this past season, has been quite under the radar for me.  Besides being a solid three point shooter Hale has a serious quick first step, handles well with speed in transition, has some slickness to her off the bounce game, and finishes with extension and speed.  Lots of reasons why Hale jumped 68 spots to #64.
Skylar Weaver Skylar Weaver 5'8" | SG Lansing | 2023 State KS , 5'8″, SG, Lansing –  Weaver and her Lion teammates had a great run in 2022.  Winning their quarterfinal game before dropping their next two to finish fourth in the state 5A tournament.  On a 20-5 season Weaver lit up the nets from beyond the arc in shooting 40% (36/90). She also shot 68% from the line, averaged 2.5 assists, and finished with a very solid 1.43 assists to turnovers ratio to land on the United Kansas Conference second team.  Weaver, who is active on both ends and has good length for her size, jumped 45 spots to #112 in the rankings.
Jordan Sears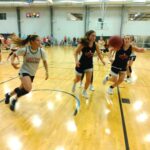 Jordan Sears 5'10" | SF McPherson | 2023 State KS , 5'10″, SF, McPherson, SSA Gameball Basketball Ingram – Newman University recently received a verbal commitment from a player most people outside of club ball might not be aware of.  A transfer from McPherson home school Sears was only allowed by KSHSAA to play sub-varsity in 2022.  At the early June MAYB Summer Kickoff she showed samples of what she can do: A nice spin move off the bounce to finish and some ankle breaking handles with a behind the back crossover for a top-of-the-key look.  She also plays physically on both ends of the floor, rebounds well, and changes ends quickly.  The Jets did a great job of picking up a player climbed 42 spots to #30 and who will make a great deal of noise in 2023.   .

Featured image: McPherson 2023 Jordan Sears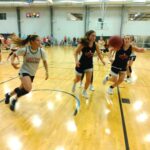 Jordan Sears 5'10" | SF McPherson | 2023 State KS , left, races two Emporia players to the ball. Photo: Robert Kelly.