A lot of Top talent on an individual basis and some highly competitive games this past weekend. Two Programs stood out and held their ground it was "proven". A lot of phone calls will be made and a lot of scholarships will be earned take a look. 
Legends U as a program was the best program that brought multiple teams as well as brought the college coaches out packing the baseline in every contest that they played in. At the 17u level Mari Bickley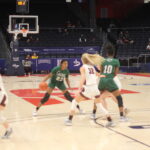 Mari Bickley 5'10" | PG Shaker Heights Laurel | 2023 State #20 Nation OH has leveled up tremendously by simply displaying the ability to score on all three levels. 17u has a few impressive players that are in other classes, but another 2023 Rashunda Jones finishes in traffic. She also displayed the ability to stop and pop and would always be at the right place at the right time making plays on both ends of the floor.
Other Notable players in this program that Proved their Ground:
2026 Saniyah Hall 
Hall is arguably a top player in the nation and displayed how good she is right now in front of many college coaches. She can finish through traffic, has good footwork, High basketball IQ, and has a superior work ethic. Hall utilizes her strength and ball handling ability to get to the basket as she has creative ways of finishing whether it is needing to create space or make a big-time play.
2024 Indya Davis & Summer Davis 
Tough is the best way to describe this young lady Indya and she plays hard for 32 minutes on both ends of the floor. She is a coachable kid and you can tell by her head nods and the way she is corrected and fixes everything she is coached to do. This young lady has all phases of the game covered.
Summer Davis brought her best in every game from the way she was able to utilize her eyes to see the floor, physically grabbed rebounds, and is not scared of any type of contact. Davis is a high major player simply because there are not many players that can do what she does on the floor and off the floor, she's a kid that everyone flocks to.
2024 Sinai Douglass 
I have seen few no matter where that can do what Sinai can do on the court. She picks up full court and puts every player in front of her in thinking mode right away with her on-ball defending ability. Sinai is phenomenal at changing speeds and making the right play. Watching this young lady play she says few words and is all about business on the court. Sinai Should be on all college coaches' radar solely because watching her in multiple games you can tell that her mental capacity of that young lady's mind is next level and what she does defensively can impact a program immediately on all levels.
2025 Kira Reynolds 
Hands down Reynolds is easily argued as one of the top players in the country. She has great size and lengthly ability that allows her athletic ability to be on display. Kira displayed the ability to finish, knock down the mid-range jump shot, and show that she can knock down perimeter shots as well. This young lady brings a lot of energy to the court with her. Keep all eyes on her because her footwork, abilities to block shots, rebound, and push the break make her a high-level basketball player no matter the day I am sure.
Example Sports 
Is a program that the name fits they don't show you by talking they show you by " Example" and their energy on the bench on all levels, peer motivation and one of the great thing's about seeing this program is that their parents bring high energy at a respectful manner that feeds the players even more. Every team in the Example sports program competes from the start of the game to the end of the game. There is a lot of life being taught in that program along with the passion that you cannot make up or an effort that can't be forced.
2026 Shania James
is special and when I say that I mean that because there are not a lot of players regardless of class that is as electrifying with the ball at her position as she is. skillfully and wonderfully made she has already blown up, but will show out for the next four years she is in high school. This young lady is next-level talented.
2023 5'9 G Jasmine Brown
She brings the three E's that every program at the next level will love to have in a player's energy, and effort and she is efficient in all phases of her game. Brown is a program changer and she can go to the next level and make an immediate impact. Tough, with great quickness and speed that allows her to change speeds and pace that creates for others as well as herself. This young lady is a dynamic playmaker and is a problem.
You could discuss players in the Example Sports program for days and break them down even longer with how much talent is in their program. They have a few players that are not mentioned, but I wouldn't have enough space to write. Here are a couple of other notables:
2023 6'1 F Faith Okorie 
This is a player you need in your program. This young lady forces a double team when the ball is in her hands. I have " Faith" that she will finish the travel season with everything that she wants simply with her ability to display great footwork and control of herself. Big-time player, makes big-time plays in big-time games and this young lady has one of the best energies that have been displayed and it is not just for herself it is for others as well.
2023 6'1 Ayanna Jackson
High-Level player that can defend and her length and athleticism alone will get her on the court at the next level. She can create for herself and others. She does a great job creating space as well as knocking done jumpers is not a problem for this young lady.