The featured image is of Ellie Richardson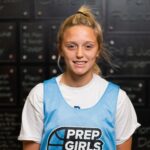 Ellie Richardson 5'8" | CG Scottsburg | 2025 State IN (2025) of Scottsburg High School and Indiana Elite Drive 15U.
This week marked the beginning of the July "live" periods, and more than 100 teams from Indiana found themselves South of the Ohio River in Louisville, Kentucky, for the Run 4 Roses tournament. To follow are five ladies who I thought stood out for one reason or another with their play when I was able to see them on Thursday, July 7th.
Camryn Runner Camryn Runner 5'9" | PG Hamilton Heights | 2024 State IN , 2024, 5-7 PG, Hamilton Heights H.S., PAC Flight North Elite 16U
– Camryn is a standout shooter/scorer with her Hamilton Heights team, but each I time I saw her throughout the Spring, she acted as more of a facilitator and showed off her traditional point guard skills. Thursday, however, her scoring mentality was in full affect, as she buried shot after shot from the perimeter, got to the basket, and earned repeated trips to the free throw line. She has probably been a little under-recruited to this point in time, but she possesses D1 skill, ability, and a nice touch from outside.
Mariah Stoltzfus Mariah Stoltzfus 5'2" | PG Bethany Christian | 2024 State IN , 2024, 5-2 PG, Bethany Christian School, Always 100-Gamble 16U
– I don't know what to say about Mariah other than she was flat out tremendous in her matchup with  Jordyn Poole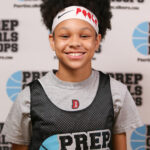 Jordyn Poole 5'6" | PG Fort Wayne Snider | 2024 State IN ,  Joh'nea Donahue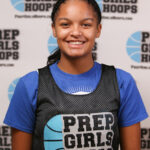 Joh'nea Donahue 5'7" | SG Fort Wayne Snider | 2024 State IN , and the Always 100 Elite 16U squad. Mariah looks like she is nearly 100% now, and she was quite the presence Thursday, burying shots with range, creating offense for herself and others, plus she was a feisty pain at the defensive end of the floor. Even in a tough loss, she gave everything she could to help turn the tables, and she certainly impressed a number of onlookers.
Addison Baxter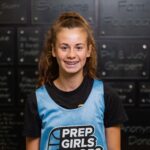 Addison Baxter 5'9" | PG Columbia City | 2025 State IN , 2025, 5-8 PG, Columbia City H.S., Always 100 Elite 15U
– When I was able to see Addison, she helped lead her group to a nice win over a very good Gym Rats team. She continues to excel at being aggressive without forcing the action, she found teammates on target and in rhythm, she made shots from all levels, and she was active and chaotic defensively, using her length and ability to affect passing lanes and pressure the ball. Her quick growth, and now noticeable strength gains, have really helped her absorb contact and maneuver the paint better.
Ellie Richardson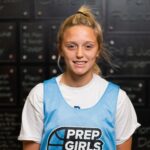 Ellie Richardson 5'8" | CG Scottsburg | 2025 State IN , 2025, 5-7 G, Scottsburg H.S., Indiana Elite Prime 15U
– Ellie was good all Spring and with her Scottsburg team throughout June. She has gotten a little stronger, but she's still a long, North/South fast guard, with the ability to attack the basket aggressively with her left hand. She has really nice touch from the perimeter, so she can play off the ball and work off of screens, or she can manage an offense and create opportunities for others. In a strong guard class, she has shown the ability to play with some of the best guards in the state in the 2025 class.
Kedriah Butler, 2026, 5-7 W, Lawrence North H.S., Indiana Red Storm 15U
– This past week was my first opportunity to see Kedriah play, and she is highly intriguing and should be a nice prospect for Lawrence North to develop over the next four years. She has really nice length, wiry strength, and she's a good athlete in all directions. She still needs to play with a little more sense of urgency consistently, but she has some physical abilities other girls don't, and she can make plays with those abilities. Right now, she's somewhere between a point forward and a scoring guard skillfully.