During this time up in Indy at the Summer Madness tournament, I have been able to sit back and watch how our Tennessee clubs fare against competition from outside of our state. It amazes me, we have some truly talented guards who are tough kids. Kids who don't get rattled, play with poise, dribble with their head up. They have a plan of attack, execute the offense, and most importantly do the little things to help their team win. It is a true sign of their character and their resiliency to get the job done.
Myah Sutton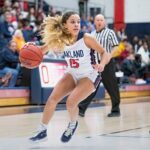 Myah Sutton 5'5" | PG Oakland | 2023 State TN from Team B. Wright comes to mind. This point guard knows how to handle pressure. She runs the offense efficiently, feeding her teammates, moving the ball around the horn, knocking down open jumpers, and attacking the rim. She plays stellar defense, causing chaos the full length of the floor. Has a high basketball IQ with amazing court awareness. She's a great communicator, directing her teammates throughout each possession. 
Karli Haworth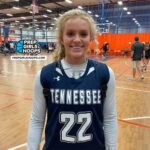 Karli Haworth 5'6" | PG Alcoa | 2023 State TN from ETA Thunder is another kid who astonishes me. Her ability to knock down shots is very impressive. The way she can control the offense and dictate the movement on the defense is phenomenal. Using ball fakes, dragging the defense to create gaps, hitting open teammates so they can shoot in rhythm, her play is a key intricate to the ETA Thunder attack. She too is a hustler who gets after it on D. Again, another high level kid who grinds out each possession, looking for advantages to exploit.
Madi Lewis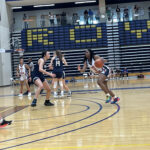 Madi Lewis 5'7" | CG Columbia Academy | 2023 State TN , the EAB Tennessee standout, has been getting it done. Knocking down clutch 3s, feeding the ball to slashing teammates, starting transition break by getting hands on the ball on D. She's had a great Live Period in July thus far. Has a nice release from deep and finishes with either hand against contact when she drives to the hole.
Alyssa Lewis with FBC Nashville. Tough kid. Super tough. An aggressive and physical guard looking to attack. Has a nice jumper that she will unleash beyond the arc or inside the lane. A true hooper who is a fierce competitor. Plays the game with a passion. Smart, heady player whose opponents must know where she's at all times. Her defense is premium, as she's going to lock your best player up. 
Dan'angela "Bam" Wilson is that "girl." Plays the game with so much energy. Shifty guard who feeds off of Myah and others. Can shoot the rock from deep, but change speeds to get to the lane. A downhill go-getter, she can finish at the rack or kick out to open teammates. Is a lockdown defender on D.
Emiyah Cobb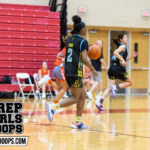 Emiyah Cobb 5'10" | CG Clarksville Northwest | 2023 State TN from Tennessee Sol is another girl who intrigues me. Sees the floor well, shifts gears, can get to the rim, shoots the rock at a high clip. Her defensive rotations have led to many turnovers. Unselfish in her ways, she is a silent assassin who can score the ball at will. A nice dual threat player that can get down hill. Active hands and quick feet on defense.