We go to alot of gyms and watch alot of teams, but sometimes when you step into a gym and see a team working hard and playing hard, it just clicks and you become a fan.  This has happen with me with this group, they play hard, the defend 94 feet and they just plain get it done on the court.  This group put in some work this Spring and Summer and have put together a few wins that were very impressive with the talent on their team.  Take a look at some scores this season and also read about the girls that play on this team.
2023, Mater Dei HS, Hannah Vela Hannah Vela 5'5" | PG Mater Dei | 2023 State CA – This girl was one of the fastest poing guards I witnessed in a minute, almost like she had wheels on the bottom of her feet.  She showed us she could pass the ball, she made shots when she was open and she played the game with good IQ.  She may be one of the best defenders on this team, she was very aggressive and knows how to shut a player down.
2023, West Torrance HS, Nicole Chuang Nicole Chuang 5'8" | CG West Torrance | 2023 State CA – Very offensive minded guard, she is proficient at scoring from all three levels on the floor and is a tough defender.  She has a nice stroke on her shot, nice size for a guard and can get out in transition and really score the ball, but do not get me wrong, she can assist her teammates for easy buckets.  Love watching her….
2023, Xavier Prep HS,

Genna Wienecke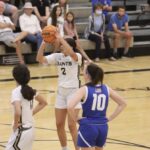 Genna

Wienecke

5'9" | PG

Xavier College Prep | 2023

State

CA

– 
She is a very athletic, smart and very composed basketball player, we have talked about her before and we are still impressed with her skill set.  She has a very high IQ for the game, she can score and defend as well as rebound for a guard.  We are most impressed with her overall outlook to the game, she is gonna do what she needs to for the win, very compassionate player, you can tell from just watching.
2023, San Juan Hills HS, Amanda Edwards – This kid always seems to be in the right spot on the floor to make a play, its uncanny, but she is always right in the mix of it all.  She is also a smart IQ player, plays the game the right way and makes the correct decision most times, love the intensity.  Very vocal on the floor and shows the signs of a team leader, coaches will love this trait, she is already leading by example and voicing here will on the floor.
2023, Aliso Niguel HS, Shanna Brown Shanna Brown 5'10" | SF Aliso Niguel | 2023 State CA   This kid could really shoot the ball, we were impressed with the stroke and the follow thru, we always love to watch a good shooter.  She was also proficient at the midrange and getting to the rim, would love to see more of the drive to the rim, but her shot ability was very good, so get the sure bucket, right!  She was equally a good passer, she got the ball to teammates for easy scores, but she was also a defensive problem, this whole team sits down and plays defense, it is REQUIRED……
2023, Vista Murrietta HS, Makenna Ching Makenna Ching 5'11" | SF Vista Murrieta HS | 2023 State CA – Makenna is a tough kid and uses her physicality on the floor to intimidate her opponents.  She has a nice midrange from the free throw line and can also get to the rim and finish thru traffic.  Very solid at defensive end in the post, but equally a problem in the paint with solid post moves as a post player.  Love her rebounding skills, just takes advantage of those smaller than her in the paint, we were yelling, MOUSE IN THE HOUSE……