Prep Girls Hoops New Mexico has updated our 2023 Prospect Rankings! Since our last update, our team of scouts has continued gathering new insights on this crop of players by keeping tabs on players throughout the last few months. This article will focus on some of the top 2023 Centers.
Kathleen Obisike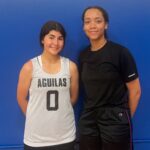 Kathleen Obisike 5'11" | C Hope Christian | 2023 State NM the star Center from Hope Christian is one of the top rated players in New Mexico. After a solid year this past season of averaging over 20 points per game and 16 rebounds per game, she has continued that success heading into the off-season. This off-season she has attended the West Shootout and other numerous tournaments with high level competition. Throughout the summer Kathleen showed her strength and interior ability from both sides of the floor. She is a great offensive rebounder who thrives at getting second chance points for her team down low. Kathleen does a good job at running the floor and making an impact on both sides of the court.
Alyce Apachito Alyce Apachito 5'11" | C To'hajiilee | 2023 State NM from To'hajiilee High School had a nice season this past spring. She was the best player on a team that went 20-5 last season and led To'hajiilee to the 1A State Quarterfinals. Alyce averaged an impressive 15.1 points per game last season which led her team in scoring a season ago. She was the 15th leading scorer in the state and has continued her high level play this summer by receiving plenty of interest to play at the next level.
Tara McDonald Tara McDonald 5'11" | C Los Alamos | 2023 State NM the forward from Los Alamos High School had a solid junior year campaign this past spring. She played a pivotal role in Los Alamos reaching the 4A State Tournament this past season. Tara plays with a lot of energy and knows how to play off the ball in effective ways. She is always moving on the floor trying to get positioning, setting picks and cutting to the basket for easy scores. Tara has had a nice summer working on her game.
Despite a tough season for Capital High School this past spring, Amerie Romero Amerie Romero 5'10" | C Capital | 2023 State NM was one of their squads more consistent players. She was the teams second leading scorer and the teams leading rebounder last season. Capital will be a young team next season after losing five seniors to graduation, so Amerie Romero Amerie Romero 5'10" | C Capital | 2023 State NM will be one o two seniors on next season's roster. Amerie knows how to move her feet well on the defensive end and when to put up her hands to contest shots. It seems with more opportunities on the way for her next season, a breakout year could be on the horizon.