Continuing our rundown of the ranked Centers in the class of 2024 we have four more terrific players to talk about. 
Julia Hunt Julia Hunt 6'1" | C Holy Cross (Covington) | 2024 State KY 6'1″  Holy Cross (Covington) 
Hunt carried her team through the 1st Half of a game I saw last season when nothing was working for the team.  She was also dominant in the rest of them too. 
She has a bounce to her that suggests she might not be done growing or gaining control of her body.  And that makes her potentially scary.  If I am right and she is going to be taller or is still not fully grown into her body she is going to be great and not just extremely good.  
Her game is very mature for a post player just now rising into her Junior season of basketball.  She has multiple post-up scoring moves and several means to impact the game on both ends of the court.  She is a very effective shot-blocker, rebounder and teammate. 
Sarah Baker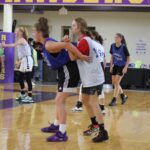 Sarah Baker 6'2" | C Ryle | 2024 State KY 6'2″  Ryle  West Virginia Thunder 
Baker's game is primarily about hustle and physicality.  She has a strong, wiry build, good balance, toughness, and a desire to out-compete her opponent.  This is the kind of player that will be on the floor, banging in the paint or otherwise putting her body on the line possession after possession with a smile on her face.  
One of the best things about her is her ability to defend every position on the court.  Whether defending the paint or stopping penetration Baker has the mentality it takes to be an elite defender.  That versatility is something that makes her extra valuable on the next level and could help her to play higher-level basketball.  
Zoee Johnson Zoee Johnson 5'10" | C Shelby Valley | 2024 State KY 5'11″  Shelby Valley  
Johnson is strong, mobile, and has a strong understanding of her role on the court.  She does about everything you can ask for in a Center.  
She sets good screens and reads the defense on the Pick & Roll to know if she should slip, pop or slide.  She is comfortable handling the ball, is a good distributor from the Low Post, High Post, and Perimeter.  She is a good rebounder on both ends of the floor, and can score in the paint or knock down the open shot.
Jenna Michael Sparks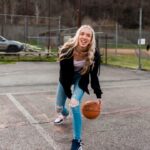 Jenna Michael Sparks 6'3" | C Pikeville | 2024 State KY 6'3″  Pikeville  Arctic Rush 
Timing can be everything life, good or bad.  Bad timing has Sparks Ranked so much lower than she should be.  Our deadline to post the updated 2024 Rankings was Monday, I saw Sparks play for the 1st time on Wednesday.  I won't speculate on how much higher she would be on our list at this moment.  But higher.  
She has a very mature game or a Big and is just as likely to play at the 4 as the 5 depending on what sort of system her team runs, what level she plays on, and how her body continues to mature.  She will be a great addition to Pikeville, a team with tons of talent but really needed some size in the paint.  
Sparks is an active rim protector, and in-zone rebounder with a huge zone thanks to her exceptional length. She is a rim runner with great hands that can cover distance quickly thanks to long strides.  But she also has good footwork to score in tight spaces around the rim.  Definitely a player I need to see again.  
Emilea Preece Emilea Preece 6'1" | C Paintsville | 2024 State KY 6'1″  Paintsville  NLA Swish 
Unfortunately, my lost notes on Preece from the only time I have seen her play, last Christmas leave me with nothing to say.  
But she is on this list for a reason.  I put her here.  I couldn't just leave her out entirely.  I wanted to at least get her name out.  
Coach, if you trust my judgment on players, give her a look.